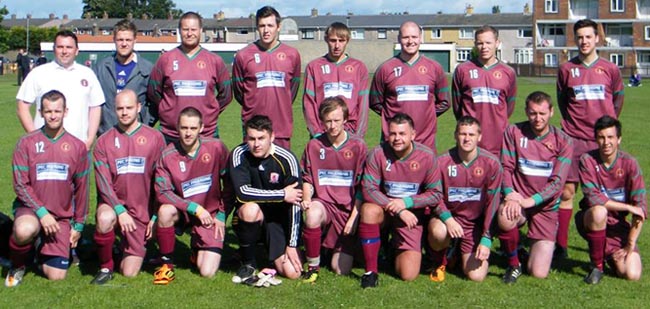 Peterlee Helford 6, Newton Aycliffe Sports Club 1
By Paul Eales
This weekend saw Newton Aycliffe Sports Club FC travel to Peterlee for the Third Preliminary Round of The Durham County Cup.
Peterlee Helford are a strong team, regulary challenging for honours in the  Peterlee and District Sunday Premier league, and a good performance history in this cup competition.
Without any time to warm up, the first half started badly for Aycliffe, with Captain David Hall being substituted in the first minute with a Thigh strain, being replaced by Carl Little.
The home side started very quickly pressing onto the back four from the off.  Some exclent link up play down the left hand side stretched the Aycliffe defence and within 5 minutes, the home side were a goal up.
However, the team from the Sports Club picked themselves back up and a perfect cross field free kick from Paul Cook, found Matty Alder un-marked at the back post to head home the equaliser.
Peterlee quickly recovered and started to dominate the play, scoring 2 goals in quick succession to put the home side 3-1 up.
A few narrow escapes saw the hosts hit the bar, the post and an Adam Gittins clearence off the line helped to keep NASC FC in the game for a short while.
However, the  home side dominated the rest of the half scoring a fourth from the penelty spot which goalkeeper Steve Richardson only just failed to get his hand to the perfectly struck kick and a fifth goal just before half time pretty much killed the game off for Aycliffe Sports Club.
A couple of substitutions at Half Time saw Chris Palmer replace Steve Richardson in goal and Anth Campbell replacing goalscorer Matty Alder who had to come off with a bruised rib from the tough tackling home side.
The second half saw the Aycliffe side more involved in the play but the heavy wind and rain pretty much evened both sides out.
Peterlee scored what was to be their 6th and final goal 10 minutes into the second half, and did manage to hit the woodwork on a couple more occasions.
The fighting spirit from the Sports Club helped to ensure that goal tally did not increase and the final two substitutes were used to help maintain energy levels, with David Teder replacing Gareth Boyes and Chase McMullen replacing the hard working Damien Jose.
With only minutes remaining, a long pass found Chase McMullen who advanced on the keeper, but with possibly too much time to make his mind up, struck the ball just inches wide of the goal.
So a disappointing result for the Sports Club which sees their debut seasons first defeat, but all credit to the Peterlee Side who had the class and the physical dominance to ensure there was no progress to the next round for the Aycliffe Side.
Team: Ste Richardson (Chris Palmer, 45), Adam Gittins, David Hall (Carl Little, 2), Mark Craggs, Jonathan Clegg, Paul Cook, Gareth Boyes (David Teder, 70), Connor Hughes, Matty Alder (Anth Campbell, 45), Chris Jones, Damien Jose (Chase McMullen, 75)
Subs Not Used: Jon Hughes, Jaimie Hindle