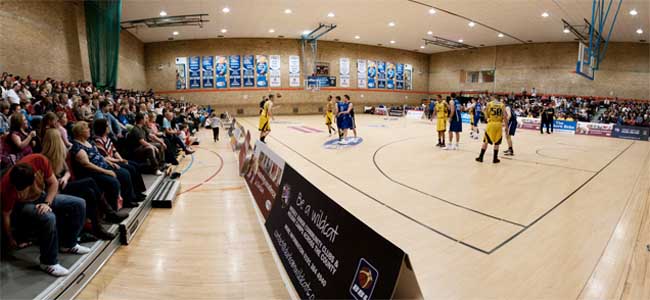 By Ryan Gillham
Durham Wildcats were overturned in a 73-99 defeat against an impressive Glasgow Rocks at Durham University's Stockton Riverside Campus.
Glasgow came out of the blocks early on with some trigger shooting from beyond the three point line to open up a nine-point lead at 3-12.
Sterling Davis started to work well in the low post and taking the Rocks lead into double figures deep into the first quarter with the score at 7-18.
Guard, Brad Guinane found his range from deep late on but it was to be of no a vale with Davis answered back almost instantly to keep a healthy nine-point lead on the buzzer with the score at 18-27.
Glasgow started bright once again to begin the second quarter with an 18-0 run locking down at both ends of the court with the score at 18-36.
The Wildcats soon increased the intensity with some excellent ball movement to narrow the gap back to 10 points at 34-44.
Davis closed out the half for the Rocks adding to an impressive first half shooting display as Glasgow finished the second with a 14-point advantage with the score board showing 38-52.
The third quarter was dominated mainly by the Rocks as they kept a stronghold on their 15-point lead with the Wildcats struggling to contend with the offensive pace of Glasgow as Donald Robinson, Andrew Wedemire and Michael Ringgold at the helm of the Rocks success under the basket ending the quarter with the score at 57-74.
Donald Robinson continued his shooting streak at the beginning of the final stanza as the Rocks opened a 21 point lead against their opponents at 70-91.
Keith Page took a stumble late into the game forcing him to exit the game with a suspected knee injury. Glasgow comfortably played out the final few minutes finishing with a 26 point win with the final score showing on the buzzer 73-99.
Head Coach Dave Elderkin was highly complementary of their visitors performance.
"Glasgow today were absolutely outstanding," he said.
"They are a very good team, our aim was to make them work hard for their ball, especially Sterling Davis but they showed some excellent ball movement making it difficult to execute our plan.
"We put the pressure on Davis but Ej Harrison and Donald Robinson then stepped up strong for the Rocks and we couldn't find our scoring form. A truly great performance by Glasgow, a top three team in my eyes."
M.V.P – Sterling Davis; 30 points and 6 assists. A incredible shooting display in the first half and finishing on 75% shooting percentage.
Durham Wildcats – Andrew Keister; 23 points, 11 rebounds; Mike Baldarelli; 19 points, 8 rebounds; Ralph Bucci; 12 assists, 11 points.
Glasgow Rocks – Sterling Davis; 30 points, 6 assists; Donald Robinson; 17 points, 8 assists; EJ Harrison; 15 points, 6 assists.