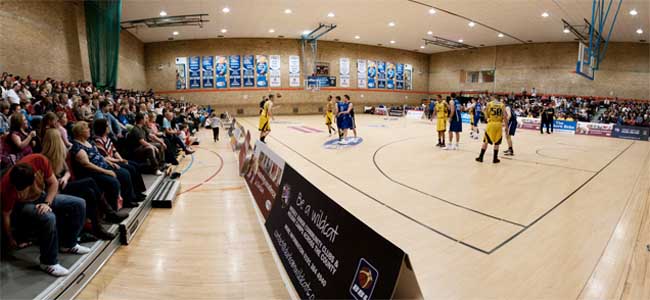 By Ryan Gillham
Worcester Wolves came out on top against the Durham Wildcats as they won 79-83 in a close encounter at the Newton Aycliffe Leisure Centre.
A few missed opportunities by the Wildcats were the difference in the opening quarter, despite a strong start from the home side. Worcester took a 17-19 lead going into the second quarter having been down by as many as six points early on but a last minute push from the Wolves gave them a two-point advantage on the buzzer.
A very tight encounter saw Worcester's lead only extend to a maximum of four points throughout the quarter but the Wildcats managed to creep the score back to within 1 after the referee's cancelled out a Kai Williams three pointer on the half time buzzer after a lengthy discussion the score stood at 39-40.
It was a poor offensive display for the Wildcats while at the other end of the court the Wolves were penetrating the basket as Worcester went on a scoring tear from behind the arc making a 9-0 run as the visitors held a 10 point lead going into the final quarter at 53-63.
The final quarter was very frustrating for the Wildcats with the referee's in the limelight after some interesting decisions at both ends of the court not going their way. The Wolves taking advantage of the situation, holding a healthy 10 point lead. The frustration turned into positivity for the Wildcats late on as they brought the game back within 3 points at 75-78 but a Arnas Kazlauskas three ended a last gasp comeback for Durham as the game ended with Worcester taking the win home at 79-83.
Wildcats head coach Dave Elderkin felt that his team could still hold their heads high after a narrow defeat to a strong Worcester roster. "The Wolves have tremendous strength and depth to their squad and they showed that today," he said.
"Keith Page was a big loss today after not having his impact which could have put the game in our hands but the guys were great tonight, just one or two things to focus on this week after tomorrow's rest day as we look towards next weekend's fixture against Glasgow Rocks."
M.V.P – Carlos Fernandez; 14 points, 10 rebounds and 7 assists. Fernandez recorded a double, double and came close to making it a triple, double. He shot 86% from the field and had an all-round impressive performance.
Durham Wildcats – Mike Baldarelli; 23 points, 6 rebounds; Andrew Keister; 22 points 14 rebounds; Brad Guinane; 14 points, 6 assists.
Worcester Wolves – Alex Owumi; 24 points, 4 rebounds; Stanley Ocitti; 18 points, 8 rebounds; Kai Williams; 16 points, 5 rebounds.