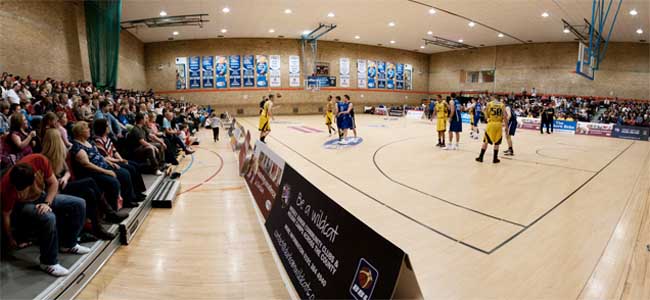 By Ryan Gillham
Durham Wildcats claimed a vital victory and completed a league double over the London Lions with an 89-84 triumph at the Newton Aycliffe Leisure Centre.
It was the Wildcats who took the lead early in the opening stanza with Keith Page and Brad Guinane claiming the first baskets but it didn't take long for the visitors to make their way into the game coming back from a six point deficit to gain their first lead as Orlan Jackman and Adrien Stuart scored from deep.
The lead switched hands once again when the Wildcats lifted the tempo, finishing strong under the basket ending the first quarter with a 2 point lead at 28-26.
The tempo continued from Durham and it soon paid off as they produced an outstanding display at both ends of the court turning steals into baskets creating an 11 point lead midway through the second with the score at 41-30.
The Lions struck back narrowing the score to within six points of the Wildcats with some clinical scoring from Michael Martin and Lawson to end the half, 50-44.
A slow but steady start to the third as both sides struggled to find the basket despite an early push from London. The Lions brought the game back to within two points but the Wildcats resisted the storm and pushed hard with a few fast counter baskets opening up a double figure lead to 11 points as the third finished 71-60.
Durham burst out of the blocks to start the fourth with some quick fire scoring from Guinane and Ralph Bucci giving them their highest lead of the game of 14 points at 80-66.
The Lions fought hard and brought the score back to within two points with 1.20 remaining with a brilliant defensive display as the Wildcats struggled to cope with the press from the Lions.
Keith Page closed the game out in the final few seconds making 4/4 at the free throw line to clinch the win, 89-84.
Head coach of the Wildcats, Dave Elderkin spoke about the importance of winning this game as the Wildcats look to earn a play-off place.
"First of all credit to the Lions after their valiant display," he said.
"They are such an athletic side and tough to break down but I was very pleased with the tempo from the lads.
"It's been a big double over the Lions and hopefully we can carry that momentum on into next week against Glasgow over at our Stockton Campus."
M.V.P – Keith Page; His very impressive 29 points and 4/4 at the free throw line in the final seconds secured the victory for the Wildcats.
Durham Wildcats – Keith Page; 29 points, 5 rebounds, Mike Baldarelli; 19 points, 3 assists, Brad Guinane; 15 points, 3 Steals.
London Lions – Michael Martin; 18 points, 8 rebounds, Orlan Jackman; 18 points, 5 rebounds, Adrien Stuart; 13 points, 9 rebounds.