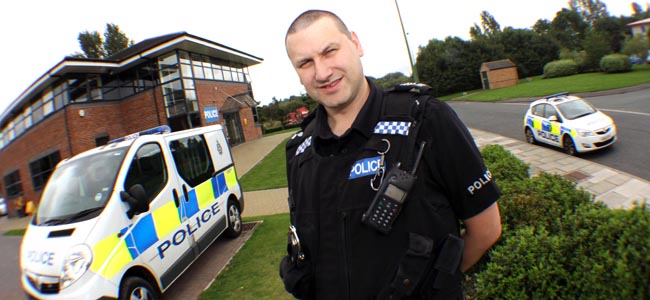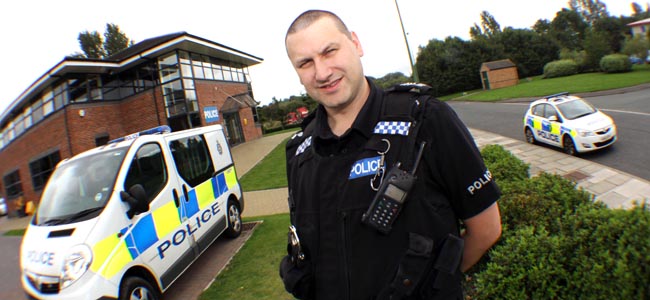 Newton Aycliffe Neighbourhood Police Team Sergeant Mark Edwards continues his regular blog on Aycliffe Today…
It's been an especially busy time for the team these past few weeks with much of our activity attracting substantial 'audiences'.
One of the main focuses for the team of late has been the thefts from West Cemetery.
I am sure many of you are aware that the NPT carried out a raid on an address in the School Aycliffe area following some valuable information received and we recovered a vast amount of property from that location that we suspected to be stolen.
A 41-year-old male and a 37-year-old female were both arrested, the male on suspicion of the thefts themselves and the female for handling stolen goods.
We launched a media appeal immediately after the seizure and as a result have had many people contacting us hoping to identify lost items.
Both suspects have been released on bail owing to the protracted nature of our investigation but the team is working hard to ensure loose ends are tied up.
I am sad to report that we are soon to be losing PCSO Nicola Shaw who only joined our ranks a few months ago.
Nicola has been successful in a recent application for another role within the organisation.
Her anticipated departure from the NPT will be sometime in November. Unfortunately that's the reality of policing – nothing is permanent.
The team has been involved in an emerging problem with anti-social behaviour within the Christopher Walk area and I am aware of criticism that has been directed towards the response of the police and our partners.
Whilst I will not offer comment on our exact strategy in terms of tackling the issues via this forum I will say that we ALL have a part to play in making our communities safer places within which to live.
Our partners and ourselves have a responsibility to work together to eliminate these problems however we need people to come forward who have been effected by the behaviour and actually let us know.
There's no value to be had in forming large numbers and attending one of the monthly forums that the police and our partners attend and launching into the representatives there with a list of issues that have not been reported to ourselves (as is often the case).
I feel that I am entitled to be defensive of the work that my team do, we seldom receive acknowledgement when things go right and the good results we achieve and I can confirm that my officers put in long hours – often at the expense of their own private lives, because they care about the issues impacting upon Aycliffe.
It wouldn't be Aycliffe Blue without some court results, so here we go…
David Outhwaite, 35, from Aycliffe, appeared at Newton Aycliffe Magistrates Court on October 9 charged with theft of meat from the Co-Op – four other offences were taken into consideration. He was conditionally discharged for 18 months and ordered to pay £85 compensation to the victims.
John Keller, 36, from Aycliffe, appeared at the town's Magistrates on October 9 charged with drink driving after having been stopped in Greathead Crescent. He was committed to prison for four weeks, which was suspended for 12 months. He was also ordered to pay a victim surcharge of £80 and £100 costs to the Crown Prosecution Service. He was also disqualified from holding or obtaining a driving licence for 44 months.
Lee Scott, 36, from Shildon, appeared at Aycliffe Magistrates Court on October 8 for shoplifting – he had stolen a bottle of wine from Tesco in the town. He was made subject of a community order, required to pay a £60 victim surcharge, and ordered to pay £85 court costs.
David Ian Edwards, 30, from Aycliffe, appeared before Magistrates on October 2 for stealing two tubes of moisturiser from Savers. He was ordered to pay £9.98 compensation to Savers, discharged conditionally for six months, ordered to pay a £15 victim surcharge, and required to pay £85 court costs. That's some price to pay for moisturiser.
That's all for now folks.
Mark J Edwards
Aycliffe NPT Sergeant