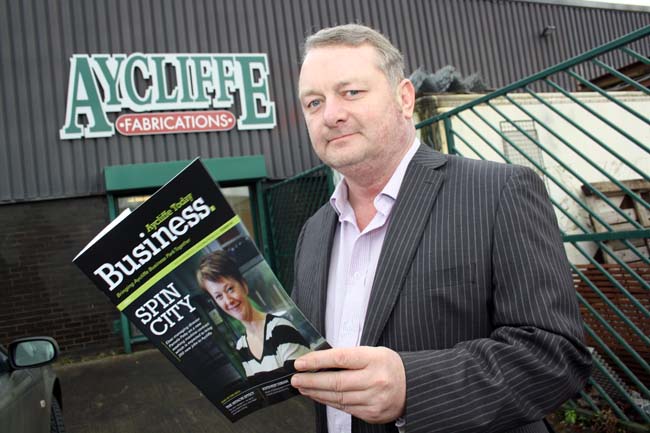 By Martin Walker
A wave of excitement sweeps across Aycliffe Business Park as the town's first and only B2B magazine is launched, while Aldi's new £1.5m store opens its doors.
"The Business Park has been crying out for something like this for a long, long time," says Aycliffe Fabrications boss Dave Spensley (pictured with the first copy of Aycliffe Today Business).
November was another productive and busy month for Newtonians.
We continue our series of monthly reviews, looking back on a memorable debut year for Aycliffe Today.
NOVEMBER
Newton Aycliffe's long-awaited £1.5m Aldi store finally opens its doors. Read more.
But the news is dampened by Flymo's decision to axe 40 jobs. Read more.
An exciting new business magazine is launched by Aycliffe Today (read more), while a number of leading businesses on the Business Park welcome the very first and only B2B publication for the town (read more).
A school team led by Newton Aycliffe steel firm Finley Structures won a nine-week Apprenticeship Awareness Programme in the town. Read more.
An estimated 3,000 people turned out for a Remembrance Day service in Newton Aycliffe. Read more.
Meet the Bone Marrow Braveheart. We talk to Aycliffe youngster Conor Radford, who picked up an ITV Brave Heart Award at a prestigious ceremony at Newcastle United's St James' Park (
read more
)
Meanwhile, Geordie legend Peter Beardsley visits Aycliffe to dish out school awards (read more).
Every LETTER helps! Ten-year-old Aycliffe schoolgirl Amy Corking spots spelling error by bungling Tesco staff. Read more.
Former Prime Minister Tony Blair is forced to cancel a high-profile event in Aycliffe, organised by MP Phil Wilson, after the death of his father. Read more.
In other news, Newton Aycliffe is said to be one of four locations with confirmed cases of the Ash dieback disease. Read more.
A Poodle was savagely attacked and killed by another dog while walking with its owner. Read more.
A Newton Aycliffe man is fined £235 and given a 12-month restraining order for harassing his ex-girlfriend. Read more.
Aycliffe police officers probe a knifepoint robbery (read more), an Aycliffe woman is accused of punching and bottling a love rival in a nightclub attack (read more), while a court hears how a group of men who worked at Aclet Electronics in Aycliffe conspired to rob the company by planning a burglary (read more).
In football, Aycliffe winger Stuart Owen insists his struggling hometown team can stay up (
read more
), and Aycliffe respond with a brilliant 2-1 win at home to West Auckland (
read more
).
Skipper Sean Tarling tells
Aycliffe Today
the famous win reminded him of the club's promotion two years prioer (
read more
) and defender Mark Wood talks to us about his long-awaited return to the fold (
read more
).
November was another cracker for Aycliffe Today – read our previous monthly reviews below.