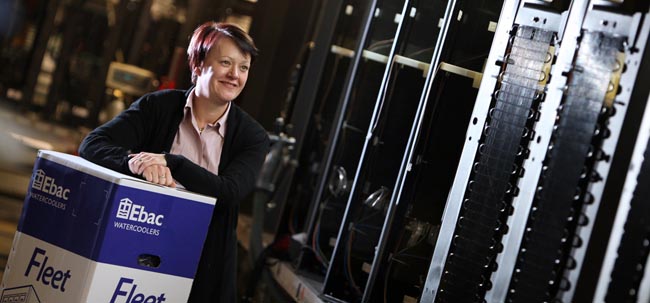 By Martin Walker
Aycliffe-based Ebac announce exciting plans to bring washing machine production back to the UK, Aycliffe Sports Club reveal £30k investments and South West Durham celebrate 45 years in the town.
There was loads of other exciting news in October 2012 – another busy month for Newton Aycliffe.
We continue our series of monthly reviews, looking back on a memorable debut year for Aycliffe Today.
OCTOBER
Newton Aycliffe-based firm Ebac won a "dream" bid to become the UK's only manufacturer of washing machines. Read more.
Hitachi Rail Europe attended a hugely-popular Oktoberfest exhibition at the Xcel Centre, when the firm's newly-appointed procurement director – dubbed 'Mr Popular' – tells Aycliffe Today about their confidence in the town. Read more.
Meanwhile, plans for an exciting new business magazine for Aycliffe Business Park are revealed. Read more.
Newton Aycliffe Sports Club revealed a £30,000 investment in new developments for members. Read more.
Aycliffe warehousing and distribution firm Stiller landed a significant contract with Bidvest Logistics, to create 10 new jobs. Read more.
Training Institution South West Durham clocked up 45 years with a special celebration in the town. Read more.
In other news, police warn residents not to approach a Japanese Akita dog which had been attacking other dogs in the Woodham area. Read more.
An Aycliffe man who broke into a Bishop Auckland bar and stole £44-worth of alcohol received a curfew and 60 hours of unpaid work. Read more.
A recovering alcoholic from Aycliffe, whose two-week-old daughter suffered a serious head injury, admitted child neglect. Read more.
The demolition of troublesome Greenfields Nursing Home begins. Read more.
Our MP Phil Wilson launched the UK's latest Baby Café which opened in Aycliffe. Read more.
The former Holiways showroom went up for sale for just under £2m after the firm had earlier gone bankrupt. Read more.
Meanwhile, stunning 19th Century building Windlestone Hall, on the outskirts of Aycliffe, sells for a cut-price £240,000. Read more.
A cash reward of £5,000 is offered for information leading to the arrest of an armed gang who terrified a family during an armed robbery near Aycliffe. Read more.
In football, Boro keeper Jason Steele enters his Big Club team into their first All England Cup campaign (read more), while we team up with local firm Mantis Media to produce a special Souvenir Programme for the game.
Struggling Northern League side Newton Aycliffe appoint fans' favourite Dan Mellanby as their new player-coach. Read more.
Can Mellanby help to turn the club's fortunes around?
Find out by checking out our final two reviews of 2012, covering November and December, tomorrow.
Other monthly reviews can be read below…