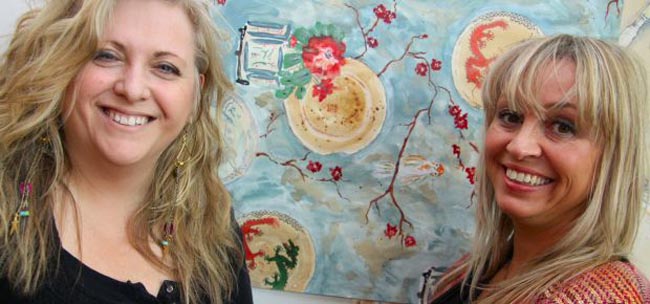 Designs by a talented Newton Aycliffe student have caught the eye of ceramic suppliers to royalty.
Cleveland College of Art & Design mature student Sharron Bates, from the town, may get the opportunity to serve up her creative talents before members of the royal household or even world leaders after her work was snapped up by American ceramic company Fitz and Floyd.
For over 50 years, Fitz and Floyd, based in Dallas, Texas, has been the undisputed leader in the design and manufacture of hand-painted ceramics and tableware, providing tea services for the Queen and Presidential dinnerware for The White House.
Sharron 42, who sold her designs at the Surtex Trade Show in New York, in May, said: "I was absolutely overwhelmed when I found out that Fitz and Floyd had bought two of my drawings.
"I did a little bit of research on them on the internet and was amazed when I saw that they supplied ceramic ware to Buckingham Palace and The White House – especially when the inspiration for one of the drawings came from three broken plates that I bought from a Hartlepool flea market."
Sharron's chinoiserie designs were among work from 40 other students at CCAD who travelled to New York to exhibit at the trade show.
The college was the only non business organisation to showcase its surface and textile designs at the Jacob Javits Centre, on 34th Street, over three days.
"Selling my first work as a designer to a major company was a pivotal moment for me," said Sharron, who has an 11-year-old son.
"It felt like the beginning of a journey that I should have taken a long time ago. I always wanted to do art but was told at school that it wasn't a proper job.
"I trained for a career working with children with special needs, which has been very rewarding, but I always felt that there was something missing."
Textiles and surface design tutor Lianne Hubbert added: "Sharon's drawing content has a lot of commercial potential for companies like Fitz and Floyd which they can then develop into a variety of product areas, such as hand-painted ceramic giftware, dinnerware, tableware, decorative accessories and collectibles."