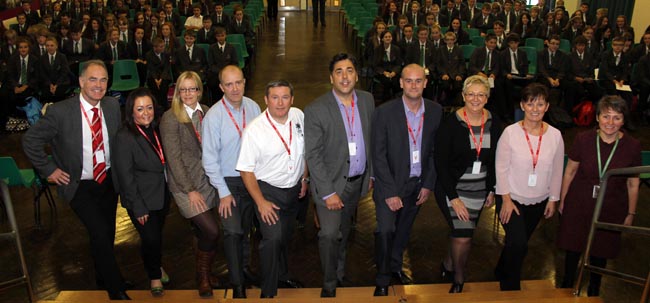 By Martin Walker
Six high-profile businesses have embarked on another Apprenticeship Awareness Programme in Newton Aycliffe.
Finley Structures, SWDT, A-Tech Fabrications, Ebac, Gestamp Tallent and the Bignall Group all visited Woodham Academy on Wednesday to kick-start the scheme after last year's hugely-successful pilot.
Organised by Aycliffe Fabrications managing director Dave Spensley, more than 100 year 9 students took part in a carousel of workshops, dubbed "speed networking", when the companies involved gave the youngsters a short insight into what they do.
CLICK HERE TO SEE OUR SHORT VIDEO
The tutor groups were then allocated one firm which they will visit and get to know more about them and Apprenticeship opportunities.
They will all then go head-to-head in a challenge to make the best presentation.
Woodham's head teacher Christine Forsyth said: "It's to help children think how they're going to contribute to the community further down the line and how they might seek employment.
"We want to work with business and local industry. We want to see how we can make sure our young people are ready for the world of work when they leave school, so it's fantastic to see firms coming in and working directly with the students."
Family-run steel firm Finley Structures won the competition last year.
Head of HR Pauline Hadwin said: "Hopefully the company and the students will benefit from future Apprenticeships in the local community, and hopefully with Finley Structures."
Kirsty Haden, recruitment advisor for training-provider SWDT, added: "It's a good opportunity for us to meet young people in the local area, engage with the school and get the kids thinking about what they want to do, especially with the things that are going to be happening on the business park in the coming months and years.
"It's also a good opportunity for some of the young people to visit us and see what we're all about."
The project is being led by Woodham Academy with input from EDT, the largest provider of Science, Technology, Engineering and Mathematics enrichment activities for young people in the UK, and supported by both Woodham and Greenfield schools.