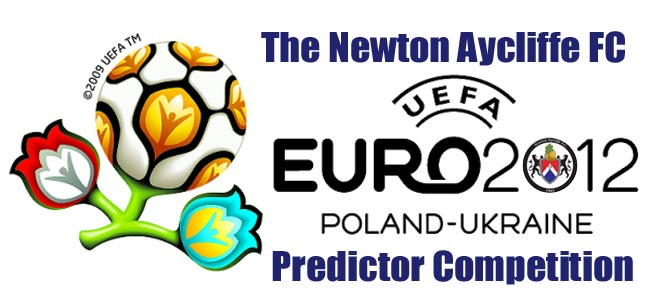 By Glen Robertson
Aycliffe Today brings you part two of our handy guide to Euro 2012, as we focus on the two groups including England and Ireland.
Before we look at groups C and D, though, don't forget Newton Aycliffe FC are offering Newtonians the chance to win a cash prize as part of an exciting Euro 2012 competition.
Priced at just £1, punters can try to correctly guess across 15 categories, in the hope of scooping what the club hopes to be a major cash prize – 75% of income will be dished out in cash prizes.
Prediction sheets can be downloaded by clicking on this link: euro predictor
Completed sheets need to be emailed to organiser Paul McGeary, to [email protected], and payment can be made by using a safe bank transfer.
Predictors need to be sent to Paul before the opening game kicks off at 5pm tonight.
GROUP C
Croatia: No longer the same fantastic side that beat England prior to Euro 2008. Tottenham's Luka Modric will be key for the Croats, but not even his talents and the goals of Everton's Nikica Jelavic can help them through this group. An early exit looms.
Ireland: If people thought England were negative, they should see the Irish. Italian manager Giovanni Trapattoni has made them incredibly tough to beat, but there won't be much excitement. They will aim for 0-0 draws with Italy and Spain, leaving victory over Croatia a must if they're to reach the knockout stage. Stranger things have happened.
Italy: Stereotypical Italians they are not. The great generation of defenders – Paolo Maldini, Fabio Cannavaro and Alessandro Nesta – have retired, meaning this Italian side have to rely a bit more on their forwards to score. They'll need Mario Balotelli to be focused on scoring goals, rather than elbowing/kicking/letting off fireworks if they are to progress in the tournament. The game against Ireland will be vital.
Spain: The great underachievers are now the king's of football, following their Euro 2008 and World Cup 2010 successes. But no European team has ever won three consecutive major tournaments and nobody has ever retained the Euros. They will pass every team to death, but their opponents will 'Do a Chelsea' to try and keep them out. A truly special team who should set-up a truly momentous clash with the Germans in the final.
GROUP D
England: After years of having so-called 'world class' footballers to choose from going into tournaments, the hype around Roy Hodgson's team is a little quieter this time. Arguably, only Ashley Cole would get into either Spain or Germany's starting XIs. But this could be good news for England. Hodgson knows his side's limits and will set them up to defend deep and look to the pace of Ashley Young, Danny Welbeck or Theo Walcott on the break. Should escape the group but will probably be sent packing by Spain in the quarters.
France: After a torrid World Cup, France are back among the contenders. Going forward they can count on the talents of Samir Nasri, Karim Benzema and Franck Ribery, while Newcastle playmaker Yohan Cabaye offers creativity from deep. But it's at the back where they're weak, and this will stop them adding a third European Championships to their trophy cabinet. A semi-final exit for Les Bleus.
Sweden: Traditionally England's bogey side. But the modern day Sweden may play perfectly into England's hands. They like to dictate the play and bring the game to the opposition, so England can sit deep and strike on the counter at Sweden's shaky defence. And a defeat to England will mean the Swedes are knocked out in the group stage.
Ukraine: Like Poland, will rely on home advantage to reach the knockouts. Unlike Poland, Ukraine won't manage it. The great Andriy Shevchenko is still around to attempt to lead his nation to glory, but at the age of 35 he will struggle to complete three games in eight days. The fairytale ending to his international career would be playing in the final in Kiev on July 1. But it will be ended on June 19 in Donetsk against England, as Ukraine fail to make it to the quarter-finals.