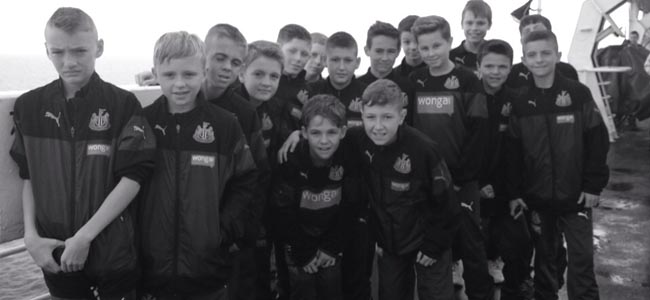 Woodham Academy student Dylan Lewis has had a fantastic month on and off the football pitch.
During November he was selected to be part of the Newcastle United U12 squad that went over to play in the annual Premier League Christmas Truce International tournament, in Ypres, Belgium.
This was a fantastic achievement for Dylan, as he was selected to be part of the 12-man squad out of a group of 16 players, and also received the award for Newcastle United Player of the Tournament, as voted by fellow players and Premier League officials.
The whole experience was one that Dylan will never forget, from sharing a hotel with players from Arsenal and Chelsea, learning to mix across different groups and visiting the Tyne Cot Cemetery, the largest Commonwealth war cemetery in the world.
Newcastle United have also selected Dylan to be part of their squad for the forthcoming U13 Futsal tournament in Paris, on 18th to the 22nd December, making him the youngest player taking part.
During his four days away Dylan will play against some of football's biggest clubs including Borussia Dortmund, Lyon and Brazilian side Sao Paulo.
Liam Clough, Director of Woodham Sports Academy, said: "Dylan's attitude is brilliant, he is always willing to represent the school, he's never missed a football game and is keen to take part in all Woodham Sports Academy has to offer.
"Being part of Newcastle United Academy has not stopped him making himself available which is extremely refreshing.
"Along with Josh Bayne who plays for Sunderland, he is proving to be a perfect role model within Woodham Sports Academy.
"I for one am extremely proud of what Dylan has achieved this year and can see him being very successful in the future."