By Donna Campbell
This report will cover two weeks of racing due to holidays and what a fortnight it has been.
On September 5, Mark Wade was the only member of the club who ran in the Marske Autumn Coast Road Race.
These races take place regularly throughout the year. Mark completed the race in 18.08.
Next up was the Great Tees 10k which was a new race in the region from the organisers Great Run.
John and Tracey Surtees both competed in this race. John was fourth overall in 36.55 with Tracey completing the race3 in 45.13.
On September 9, five of our members travelled to run in the Vale of York Half Marathon.
Paul Dalton was first home (although he was running for his first Team Quakers) in 1.26.38 followed by Trish Kay in 1.48.09, Eve Doe in 2.37.57, Jan McLuckie in 3.07.10 and Carol Stenger in 3.07.11.
Also on September 9 was, of course, the Great North Run and this year we had an incredible number of runners taking part.
Results were as follows: Stuart Joyce 1.34.46, Andy Talbot 1.36, Richard Holland 1.45.40, Chris Dixon 1.54.53, John Heywood 2.09.02, John Burnside 2.11, Ian Baronowski 2.12.36, Lindsey Brown 2.14.05, Simon Turner 2.14.05, Richard Tonge 2.15.09, Austin Donoghue 2.14.45, Mandy Heywood 2.14.51, Gemma Holland 2.18.46, Lisa Dowell 2.25.56, Rob Jayne 2.28.12, Brian Smith 2.29.48,Craig Robinson 2.32.43, Jane Quigley 2.34.24, Emma Scott 2.34.24, David Thompson 2.44.17.
Following on from this four of our members ran in the sixth race of the Tees Trail Series.
This 5k midweek race took place on September 12, with Sue Milburn coming in first for the club in 25.51 followed by Cyd Denise in 26.16, jane Burnside in 32.52 and Angela Sutheran in 37.35.
Despite all this activity, members still took part in the local parkruns on September 15, with four members recording PB's at Shildon Parkrun. They were Andy Talbot 20.10, Ian Baronowski 25.11, Susan Clark 30.40 and Craig Robinson 31.19.
The final racing of this report took place on Sunday September 16, where members participated in two races.
First up was John Heywood and Andrew Lumley who travelled to RAF Spadeadam in Cumbria to take part in the trail outlaw half marathon which took place there.
This was described as a very tough but enjoyable race which John completed in 2.10.09 and Andrew in 2.21.33.
Last but not least was the Serpentine six-mile race, also on September 16.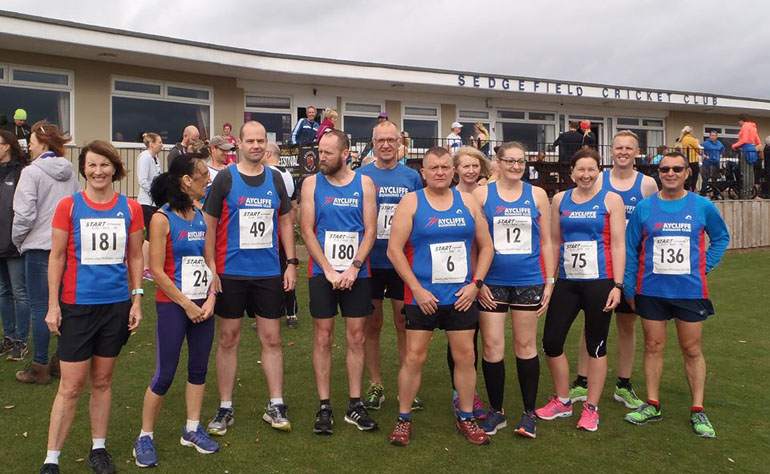 This is a local trail race of just over six miles organised by Sedgefield Harriers and takes in Hardwick Park as well as the trails surrounding the Sedgefield local area.
This is an undulating race but there was a good turnout from the club in which two members received prizes.
First home from the club was Mark Wade ion 40.52, followed by Peter Milburn 44.03, Andy Talbot 44.07, Richard Holland 45.44, Michelle Jane 48.35 (also 3rd female overall), Trish Kay 54.29 (1st female vet55), Susan Milburn 56.01, Nick Gilling 56.35, Julie Nisbet 58.42, Ian Baronowski 60.07, Kathleen Tonge 64.37, Richard Tonge 64.37, and Susan Clark.
Well done all on what has been an incredible two weeks of racing.