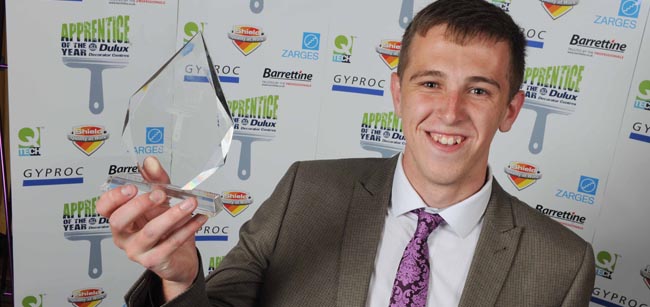 Kristian Pilmer, a painting and decorating student from Newton Aycliffe, has painted his way to third place in Dulux Decorator Centres' National Apprentice of the Year 2013 after impressing the judges with his great brushwork and eye for detail.
Kristian, 20, fought off stiff competition from nine other talented painting and decorating students from all over the UK and Northern Ireland to secure third place at the thrilling grand final, which took place on Wednesday June 12 and Thursday June 13, at Sandwell College.
The competition was followed by a presentation ceremony held at The Mount hotel, Wolverhampton.
A sustainability theme was chosen for this year's final, with all competing students required to complete an 'environmentally focused' themed room set using some of the painting and decorating industry's most sustainable tools and products.
In addition to the main 'environmentally focused' products donated by various Dulux Decorator Centre's suppliers, the leading decorator specialist also arranged for a clear wash system to be installed duration the competition.
The themed workpiece incorporated a wide range of skills including wallpapering, stencilling, waterborne glosses, and special effects, which were then each judged by three leading industry experts and a Dulux Select Decorator.
Kristian was announced in third place and presented with an engraved glass award, at the awards evening attended by all the finalists and their lecturers, as well as suppliers, sponsors and executives from Dulux Decorator Centres.
As part of his prize, Kristian won £250 cash prize from Dulux Decorator Centres, and a selection of products from the competition's sponsors.
Beverley Whitehead, marketing manager at Dulux Decorator Centres, said: "This is the sixth year we have held the Apprentice of the Year competition and there was a tremendous amount of talent on show.
"Choosing a winner is always a difficult task as there was so many strong contenders, but Kristian did really well to secure third place in such an incredibly talented field."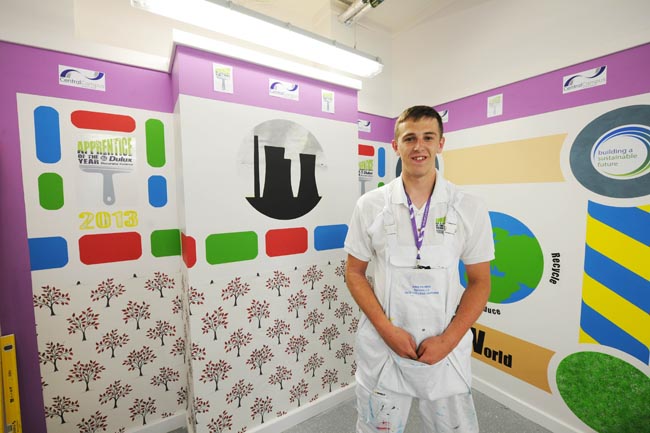 Kristian, currently in year two of his apprenticeship at New College Durham, said: "I'm thrilled to have been awarded third place in the Dulux Decorator Centres' Apprentice of the Year, especially as the standard of everyone in the final was extremely high.
"The final work piece was really challenging and we needed to use lots of different techniques, but I really loved taking part in the competition."
Dulux Decorator Centres searched the length and breadth of the UK for the best painting and decorating students, and a total of 114 apprentices participated in the nine heats held across UK and Northern Ireland, with each regionally winner and the highest runner up securing their place in this year's final.
Nine regional heats were held at painting and decorating colleges across the UK – North West Kent, Bristol, West Suffolk, Coventry, Llandrillo, York, Liverpool, Fife and Belfast.
The competition was open to both painting and decorating full-time students and apprentice between 17 and 24 years of age on a recognised painting and decorating course and studying an NVQ or SVQ level two or three.
Lewis Roberts, aged 22, from Lincoln College was the overall winner of the competition, while Kirk Croft, aged 18, from South Leiceshire College, picked up second place.
To find out more about Dulux Decorator Centres visit www.duluxdecoratorcentre.co.uk, or join the conversation on Twitter @DuluxDecCentre and Facebook www.facebook.com/DuluxDecoratorCentres