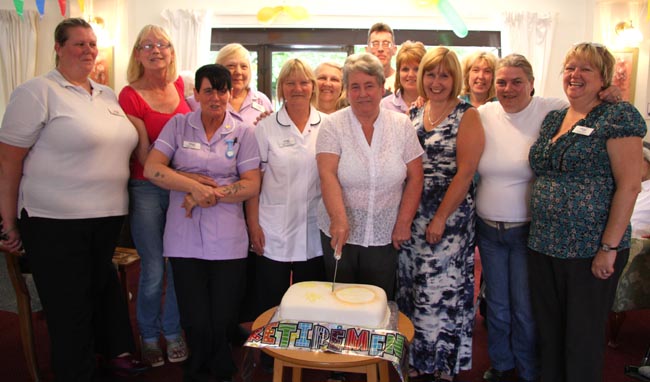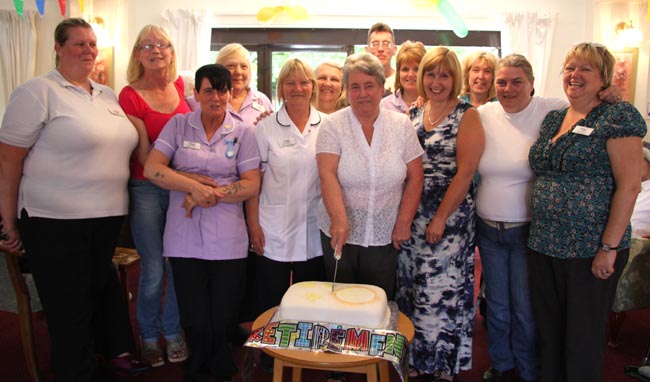 Aycliffe Care Home, which is part of Akari Care, has said goodbye to one of its valued members of staff who has finally retired at the age of 69.
Norma Moore, who was a Care Assistant at Aycliffe Care Home and is older than some residents, enjoyed a surprise retirement party to mark her 15 years working for Akari Care.
Residents, members of staff and guests were entertained by a local singer and enjoyed a cake made by the home's cook.
Also at the party, Aycliffe Care Home's assistant cook, Tina Davies, who has worked at the home for more than 11 years, shaved her head to raise money and awareness for Macmillan Cancer Support. Sam Teddar of Roots hairdressing shaved Tina's head as part of a donation to Macmillan Cancer Support.
Located on Burnhope Way, Aycliffe Care Home is a purpose built 54 bedded home providing 24 hour care for general residential and elderly mental infirm (EMI) care and nursing.
Aycliffe Care Home is part of Akari Care and aims to maintain lifestyles as similar as possible to those enjoyed at home, with an extensive range of activities which individuals can enjoy and benefit from.
Mrs Doreen Bonnar, Aycliffe Care Home Manager, said: "Norma has been a fantastic and extremely valued member of staff at Aycliffe Care Home. She was thrilled when we surprised her with a party to show our appreciation for her hard work and dedication throughout the years. We all wish her well in her retirement and will miss working with her. We were also delighted that so many of our members of staff and residents who were celebrating Norma's retirement supported Tina's brave fundraiser for Macmillan Cancer Support."