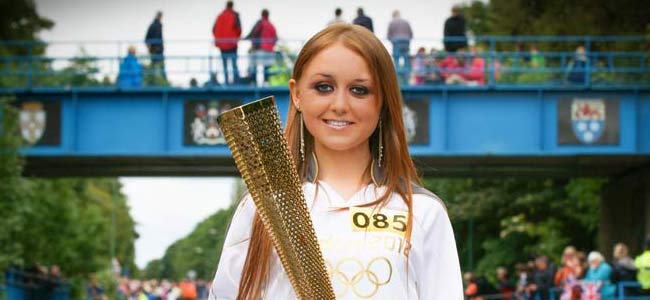 By Martin Walker
The Olympic Torch passes through Newton Aycliffe, Hitachi host widely-acclaimed Open Day in the town and Ineos fined £10k for chemical release.
June was another busy month for Newtonians, as London 2012 organisers took the Olympic Torch across the country – we spoke to Torchbearers and brought you stunning pictures of a memorable day.
Today, we continue our series of monthly reviews, looking back on a memorable debut year for Aycliffe Today.
JUNE
Thousands of people lined the streets of Newton Aycliffe and Middridge as the Olympic Torch paid a visit during its North-East leg of the tour. Read more.
Several photographers captured some stunning images of a memorable day – see them here.
Sophie Hughes – 'The Girl with the Golden Torch' – spoke to Aycliffe Today about being "taken aback" by the occasion. Read more.
Meanwhile, Woodham Academy assistant head teacher Jon Tait was a Torchbearer in another part of the region – he told us about "one of the best days of my life". Read more.
In business news, an over-subscribed Hitachi construction Open Day at the Xcel Centre was heralded a huge success. Read more.
Local chemical firm Ineos was fined £10,000 after 56 tonnes of gas, particles and steam were shot into the Aycliffe sky, leaving homes at the nearby Chestnuts housing estate coated in white powder. Read more.
Aycliffe-based Ebac announces its £200,000 sponsorship of the Northern League (read more), while the town's representatives in the league complete an exciting double signing (read more).
It's confirmed the Northern League's newest arrivals will be Darlington after their appeal against being demoted two further leagues is rejected by the FA. Read more.
Aycliffe legend Dan Mellanby joins his uncle Brian Atkinson at the Quakers (read more), while eight Aycliffe players commit their future to the club (read more).
Off the field, Boro's Jason Steele adds his support to Aycliffe FC's 'Give Us A Quid' fundraising campaign. Read more.
In other news, around 1,000 women in Aycliffe are told they will have to repeat cervical smear tests, after it was revealed that the procedure wasn't carried out correctly. Read more.
Dozens of Newtonians descend on Sunderland's Stadium of Light to see a memorable Coldplay concert. Read more.
MP Phil Wilson calls for an axed bus service near Newton Aycliffe to be reinstalled (read more) and he submits a petition to the House of Commons (read more).
A spirited group of work colleagues and friends from Aycliffe completed the gruelling Three Peaks challenge to raise charity cash. Read more.
Aycliffe police officers joined forces with local residents to help a pensioner suffering from anti-social problems in the Horndale area of the town. Read more.
In crime news, a teenager is arrested and charged for thieving at Simpasture shops (read more), a Middridge man gets a caution after police seized cannabis plants from his home (read more) and an Aycliffe man gets a suspended prison sentence for assaulting a woman (read more).
Our action-packed reviews will continue over the next few days, while you can click on previous reviews below.