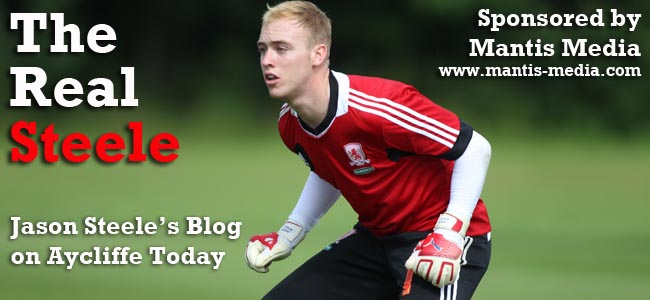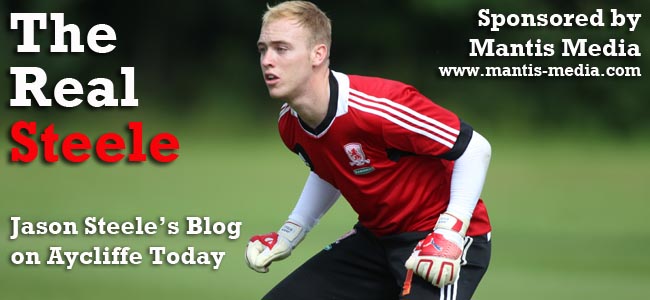 Middlesbrough goalkeeper and proud Newtonian Jason Steele begins a brand new blog on Aycliffe Today…
It's a shame I can't start my new blog on a more positive note, after our 3-1 defeat at Derby on New Year's Day, but 2012 was generally a very good year for me personally, as well as for my club.
I stayed pretty much injury-free and played in just about every game of the year, while being involved in the Team GB squad during the Olympic Games was a tremendous honour and something I'll be able to tell my children and grandchildren about in years to come.
Other highlights included Boro's run to the quarter-finals of the Capital One Cup, with a memorable win at Sunderland the stand-out game. That was a sweet result for me, as there a lot of Sunderland fans where I come from and a lot of my friends are Mackems (other than that, they're alright).
As a team, we've progressed massively since last season. We're currently in a fairly identical position to this time last year, but I think we're playing better football and the manager is changing the formation from game-to-game.
Players are adapting to different positions so our opposition can't get used to us using the same system. That's credit to the players, and also credit to the gaffer and the management for how much work they put into making that happen.
For me, the key now is to get everyone back fully fit, and that will give us a great chance of achieving our goals.
Promotion is the ultimate aim, of course, and everyone at the club believes we're capable of finishing in the top two – that, for me, is key. Without belief, there is no hope. But there's a strong belief this time, not just in the dressing room, but running through the club.
The New Year's Day's defeat at Derby was hard to take, and perhaps injuries and the build-up of games have just taken their toll, but we see it as a blip. To be fair to Derby, they played well and we couldn't live with them on the day.
So we must sweep it aside, and this Saturday gives us another opportunity to forget about the league for a day, as Hastings United come to the Riverside as the lowest-ranked team left in the FA Cup.
The FA Cup is still a huge competition in my eyes. Everyone has their own special memories and the cup has made legends of some players over the years.
One memory that stands out to me was when Stevenage beat Newcastle 3-1 two years ago. Although, in the same year, we were beaten 2-1 at League Two side Burton Albion in the third round.
We don't want to see another upset this season, and without any disrespect to Hastings, we don't want to be the featured game on Saturday night's Match of the Day programme, because if we are, it won't be good!
For Hastings, it's their cup final. I have friends who play at a similar level, in the Northern League, and I know the cup means a lot to players right down to that level of the game.
In fact, some of my friends currently playing for West Auckland (Daryl Hall, Elliot Gardner and also their physio Nathan Liddle) lost a second qualifying round replay against Harrogate Town, who were knocked out by Hastings in the second round proper, so the Road to Wembley could have matched me up against some of my pals on Saturday!
That's the beauty of the FA Cup, though. It gives them the chance to pit their wits against bigger clubs.
It's always a cliché, that we must treat it as a normal game, but Hastings will be bang up for it, so we have to be professional about it, approach the game properly and see it through – and make sure we don't make the Sunday paper headlines for all the wrong reasons.
I hope you've enjoyed my debut blog on Aycliffe Today, and look forward to the next one soon.
Cheers
Jason
Don't forget to see me in action for Boro v Hastings United at the Riverside Stadium on Saturday (3pm kick-off) with tickets from £5 – click here for details.