Aspiring councillors are bidding for your votes in the forthcoming local elections.
A total of 27 candidates are vying for the seven Durham County Council ward positions in the May 6 poll.
There are three seats available for the Aycliffe North & Middridge ward, and two each for the Aycliffe East and Aycliffe West areas.
This boundary map shows where the ward areas are within Aycliffe, and below the map we list the 27 candidates and their respective parties.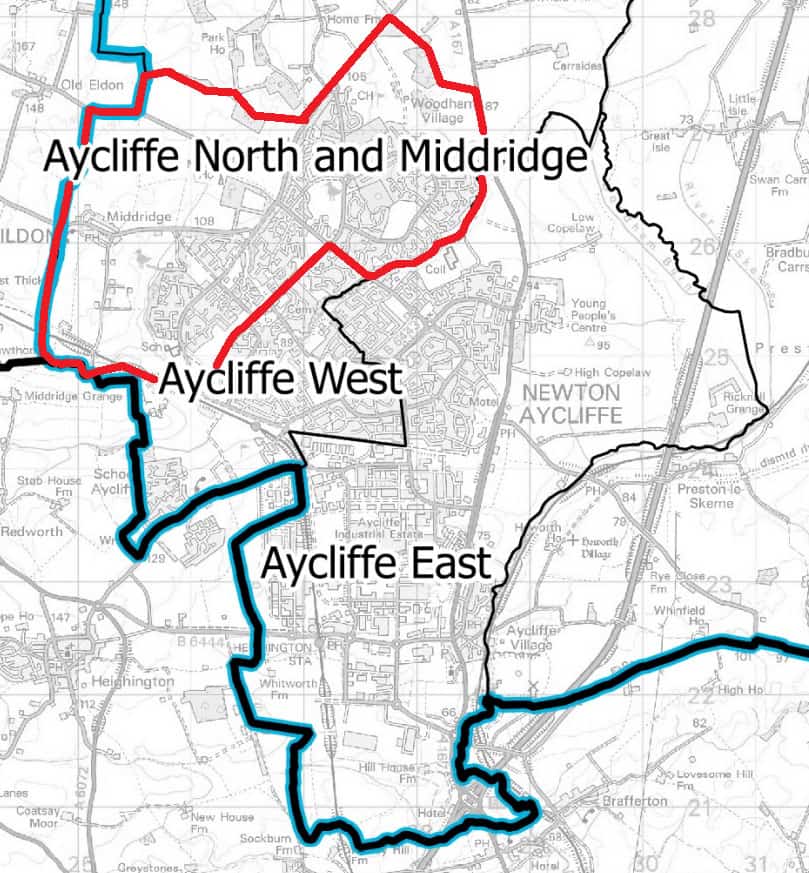 Tories step down as Lib Dems bid to take on Labour in Aycliffe North
Eight candidates confirmed for Aycliffe East
Eight candidates confirmed for Aycliffe West
The full list of candidates are as follows:
Aycliffe North and Middridge (11 candidates)
Kathryn Beetham (Labour)
Dorothy Bowman (Independent)
John Clare (Labour)
Sandra Haigh (Independent)
Jed Hillary (Labour)
Andrea Miller (Lib Dem)
John Moore (Independent)
Maureen Shelton (Lib Dem)
Michael Stead (Lib Dem)
Tony Stubbs (Conservatives)
David Sutton-Lloyd (Conservatives)
Sitting councillors:
John Clare (Labour)
Scott Durham (Conservatives)
Paul Howell (Conservatives)
Aycliffe East (8 candidates)
Tony Armstrong (Lib Dem)
Jim Atkinson (Labour)
Bob Fleming (Independent)
John Grant (Reform UK)
Brian Haigh (Independent)
Wendy Hilary (Labour)
Neville Jones (Lib Dem)
Martin Peeke (Conservatives)
Sitting councillors:
Jim Atkinson (Labour)
Sarah Iveson (Labour)
Aycliffe West (8 candidates)
Eddy Adam (Labour)
Michaela Banthorpe (Freedom Alliance)
George Gray (Independent)
Kate Hopper (Labour)
Elizabeth Maw (Conservatives)
Ken Robson (Independent)
James Walsh (Lib Dem)
Paul Whiting (Lib Dem)
Sitting councillors:
Eddy Adam (Labour)
Kate Hopper (Labour)