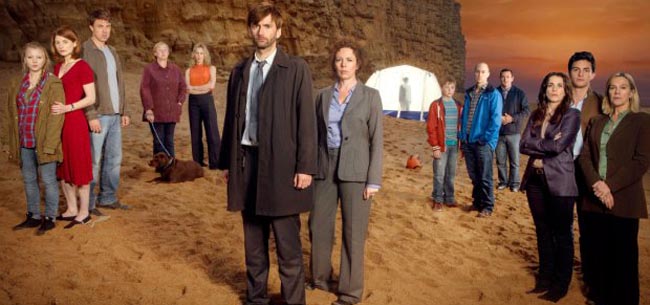 Brodie Millichap picks out this week's TV highlights…
Five Picks Of The Week
Broadchurch (pictured): Monday 9pm, ITV1.
With the detectives still no closer to discovering who murdered Danny, his parents take matters into their own hands as they seek to get more press coverage. Excellent crime thriller starring David Tennant and Olivia Colman.
Keeping Britain Alive: The NHS In A Day: Tuesday 9pm, BBC2.
Brand new eight part documentary series exploring the amazing work done by the NHS in just 24 hours. We begin in Birmingham, as we follow a hard-working matron at the start of her day.
Phil Spencer: Secret Agent: Wednesday 8pm, Channel 4.
Phil Spencer travels to Sussex this week as he looks to help the public sell their unwanted houses. First he visits Ben and Kate, who are attempting to move out of their Grade II-listed cottage in Shoreham. Secondly, he sets to task on helping Zoe sell her house – which has been on the market for three months.
Come Dine With Me: Friday 8pm, Channel 4.
The dining challenge comes to Middlesbrough this week as four contestants do battle to host the best evening. Amongst the contestants are a man who refers to himself as the Simon Cowell of the culinary world and a self-proclaimed Bantersaurus Rex.
My Hero: Miranda Hart On Eric Morecambe: Friday 9pm, BBC1.
Sitcom star Miranda Hart explores the life of her comedy idol, Eric Morecambe. Miranda visits the places he performed and meets the people who knew him best. A true nostalgic programme.
Soap Watch
Coronation Street sees Tyrone's trial start this week with the unfortunate Dad facing a prison sentence. However, events take a turn as the week goes on and it becomes unclear as to who will end up behind bars.
Emmerdale sees Robbie take a beating at the hands of Cameron this week and is thrown into the back of his van. Will he go the same way as Alex?
In Eastenders, Liam is in trouble when he gets on the wrong side of Kane's violent gang and ends up being stabbed.