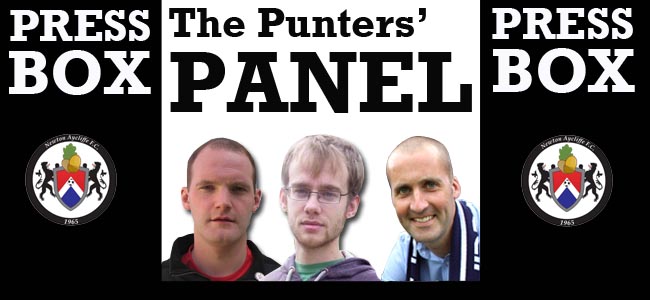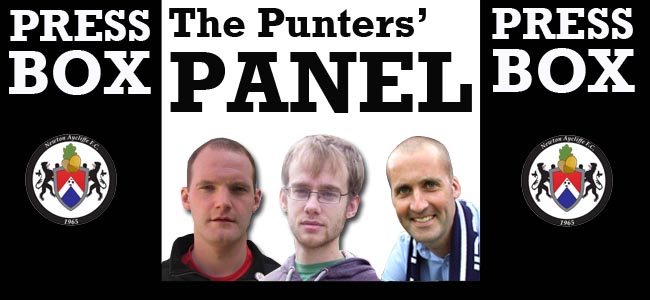 Our panel of three Aycliffe 'experts' give their predictions for this weekend's game…
One point is award for the correct result (win, lose or draw), and three points are awarded for the correct scoreline.
Another wash-out last weekend leaves Glen with a four-point lead.
Scores on the Doors:
Glen Robertson – 16
Paul McGeary – 12
Dan Lewis – 9
This week, the trio aim to get more points on the board by overseeing the trip to Billingham Synthonia.
Paul McGeary
Last season here it was a snooze-fest. Earlier this season at HQ, we needed a 93rd minute equaliser from Tom Hinchley to salvage a point. Twice in previous seasons in cup competitions, we've had our bait put up by the Synners, but Danny Earl featured heavily for the green and whites on those occasions. We've been sucked right back into trouble due to poor form, postponements and an upturn in fortune for Synners' nearest and dearest, Billingham Town and this weekend may prove another struggle without the suspended Crads. That said, I think we'll get atleast a point, though I'm hopeful of three. Sitting on the fence, I'll take the draw.
Billingham Synthonia 1-1 Newton Aycliffe
Dan Lewis
Well, following my assertion last week to the chairman that I didn't see Billingham Town winning another game all season, all of a sudden they have put a run together and we are right back in the thick of the scrap at the bottom. However as the Villa have shown, a couple of wins and we could be relatively mid-table! However, away to Synners isn't exactly an easy place to look for the first of these wins! A late equaliser at our place earlier in the season grabbed us a point and to be honest I think that's the best we can hope for this weekend. Craddock's suspension will leave a huge hole (metaphorically of course!) in the back four and it will be interesting to see which of his back-up options Allan turns to. The weather has again been poor this week, meaning the pitch is likely to be heavy at best which doesn't suit our agile forward players so much and I think we will face a real battle this weekend.
Billingham Synthonia 2-1 Aycliffe
Glen Robertson
Billingham Synthonia are one of the best footballing sides in the division. They like to get the ball down and play it to feet, with former Newtonian Nathan Wilson looking to dictate things in the middle. Aycliffe aren't a bad side themselves, and Martin Young will be looking to grab hold of proceedings. But with the recent weather, the pitch will not allow free-flowing football and it will be a real scrap. The Royal Blues know they have to fight for every point from now until the end of the season, and I believe Saturday will see the lads battle to a massive three points. The winless run ends here and, hopefully, the league table will make for nicer reading for all connected with the club.
Billingham Synthonia 1-2 Newton Aycliffe