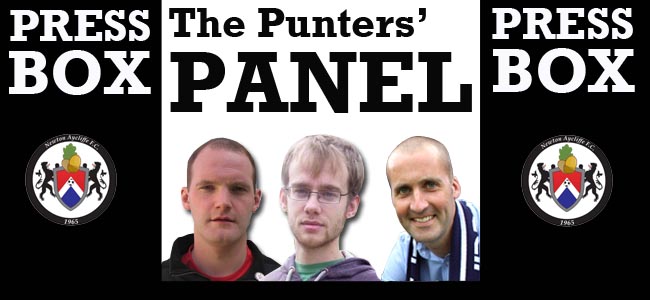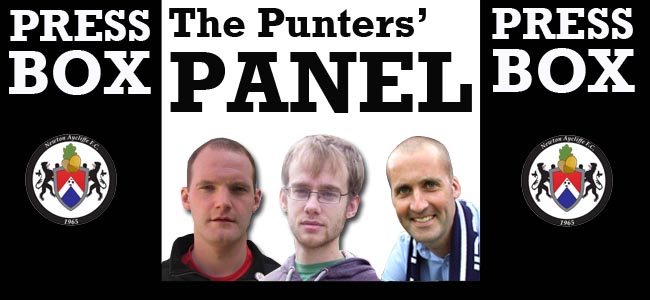 Our panel of three Aycliffe 'experts' give their predictions for this weekend's game…
One point is award for the correct result (win, lose or draw), and three points are awarded for the correct scoreline.
All three punters failed last week, as Celtic Nation inflicted a 2-1 defeat upon their hosts!
Scores on the Doors:
Glen Robertson – 16
Paul McGeary – 12
Dan Lewis – 9
This week, the trio aim to get more points on the board by overseeing the trip to Dunston.
Paul McGeary
Two words. Chris. Swailes. He may be approaching 85 or something, but the evergreen Chris Swailes is a continued thorn in Allan Oliver's side. From rock solid no nonsense defending, to crucial goal-getting at the business end of the pitch. In three previous meetings, Aycliffe are yet to score, and have been defeated twice, by two Swailes headers. Some may point to the now departed Terry Galbraith as the wizard who whips the dead-balls onto 'Swaz's' head and no doubt, UTS are weakened by his departure, but they are still a quality, organised outfit who play to their strengths. Last week's Vase exit will be hurting them, and they could come at Aycliffe like wounded tigers, with Andy Bulford prominent in attack. Aycliffe will also be hurting, and Dan Mell's cameo last week was uplifting, and should he be needed on Saturday (hopefully with the scores closer than 0-2), then you can guarantee he'll be pulling the strings for Sean Reay, Freddie and Danny Earl. I'm going to go for another tight game, and the birthday boy to notch. Happy 21st Fred!
Dunston UTS 1-1 Newton Aycliffe
Glen Robertson
After a first defeat of the year, there are better places to go to bounce back than Dunston. They're a brilliant side, who will be further motivated by the fact they lost their grip on the FA Vase recently. Games are usually tight between the two teams, with Terry Galbraith usually the difference. Luckily he's gone to Darlington, so I'm confident Allan Oliver's boys can grab a point.
Dunston 1-1 Newton Aycliffe
Dan Lewis
Unfortunately my optimism for last week was misplaced, as we fell to our first defeat of 2013. In truth the performance levels were nowhere near where they have been so far this calendar year and on the day we were comfortably second best. The introduction of 'magic man' Mellanby and his experience of using his body and the conditions in the second half is maybe something that has given Allan food for thought this week. Dunston though are also on the back of a major disappointment. I think many of us were surprised that they crashed out of the Vase last week, and they will be hurting. Saturday I think will be another battle. The weather this week will again ensure the pitch is heavy and it will be interesting to see if we can adapt better than last week. My heart is saying we will sneak a draw but on this occasion I think I have to follow my head which is saying narrow defeat.
Dunston 2-1 Aycliffe