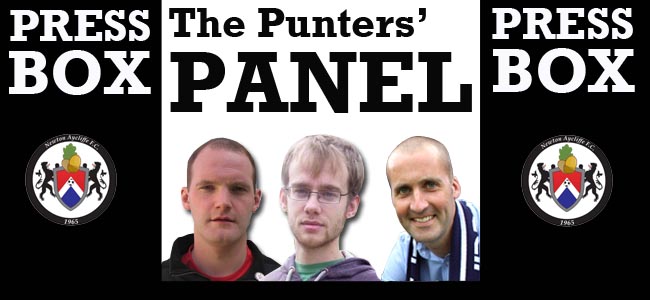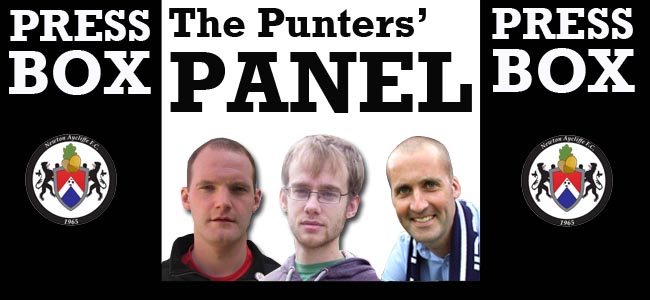 Our panel of three Aycliffe 'experts' give their predictions for this weekend's game…
One point is award for the correct result (win, lose or draw), and three points are awarded for the correct scoreline.
Glen hit the exact score last week while Paul wasn't far off and got the result right. Daniel, well, say no more!
Scores
Glen Robertson – 16
Paul McGeary – 12
Dan Lewis – 9
This week, the trio aim to get more points on the board by overseeing the visit of Celtic Nation.
Glen Robertson
Celtic Nation can beat anyone in this league on their day. They were the first to stop Spennymoor winning, beat West Auckland and were very unlucky against both Darlington and Shildon. But they've also been thrashed by Penrith and beaten by Consett, Marske and Durham. If they don't view Allan Oliver's boys as a tough game, they'll be dispatched comfortably. If they turn up on-form, though, it could be a very long afternoon for the boys in Blue. But I'll show some optimism for a change, and say it'll be four from four.
Newton Aycliffe 2-0 Celtic Nation
Paul McGeary
My opinion of Celtic Nation hasn't changed from last month. They are a formidable outfit. I watched them destroy West Auckland in December and they are a very settled, organised unit. Manager Steve Skinner sits in front of the defence and builds from the back. Jeff Smith chests corners down in his own area and Cruyff-turns centre forwards from left back. Dean Douglas is a flying winger, in the mould of Kris Hughes and in Reed and Archibald up top, there are goals! That said, we're three from three and confidence is high. Danny Earl is scoring freely and even without the skipper, who returns this week, our midfield has been both tight and creative. A tough game, and the conditions may well be the leveller. Can Scott get his fourth consecutive caution?!
Newton Aycliffe 2-2 Celtic Nation
Dan Lewis
Well, it seems I didn't have enough faith in Allan and the lads last Saturday, as I allowed my opponents to extend the lead on me with their successful predictions! A great result indeed, and what a cracking start to 2013 it has been. This week will certainly pose a different challenge. Celtic Nation have been able to recruit some excellent players this season, with significant amounts of Football League experience and our lads will have to be up for this one. However the spirit and togetherness we have now is a match for anyone. Weather conditions over recent weeks have meant that our playing surface isn't quite up to its usually high standards but the old adage of it being the same for both teams will be true and I am backing our lads to come out on top in this one, albeit with another narrow victory.
Newton Aycliffe 2- 1 Celtic Nation