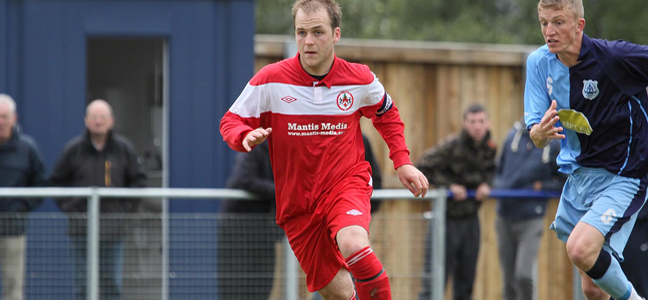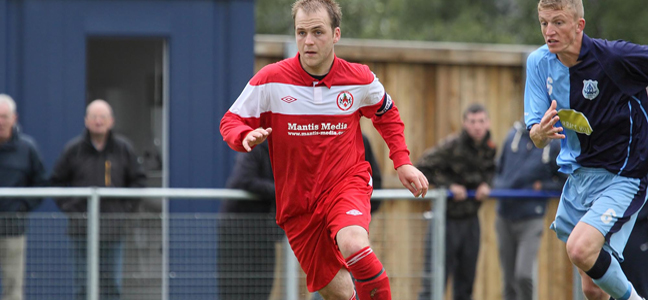 Newton Aycliffe captain Sean Tarling admits it was a "huge wrench" to leave his hometown club this summer after joining local rivals Bishop Auckland.
The loyal Newtonian spent the previous five years at Moore Lane Park and last season notched his 150th appearance for the club after playing a major role in the side's rapid rise through the leagues.
But the 2012-13 Northern League campaign took its toll on the squad, and star defender Darren Craddock wasted no time in heading for the exit when he joined Shildon last month.
Goalkeeper Scott Pocklington has also opted to join Tarling at Heritage Park to mark a disappointing start to Aycliffe's pre-season plans.
The Royal Blues are putting a brave face on things, but the alarming exodus must be worrying supporters, who were happy to see the end of last season and will have been hoping for a more positive summer.
Tarling, a former Woodham Academy student who still lives on the town, told Aycliffe Today: "It was a huge wrench, the biggest football decision I've ever had to make.
"But I just think the time was right for me to leave. I played my 150th game for the club last year and I didn't really see myself leaving, but last season was difficult and it was bound to affect a lot of the players.
"The last thing any of the Aycliffe lads wanted was to take their hometown club back down to the second division and, after the start we had, it was a fantastic achievement to stay up.
"Hopefully a lot of lessons were learned and the club will be stronger for the experience, but sometimes you just have a gut feeling and you know it's the right time.
"Bishop is a big club in the Northern League with a long and proud tradition and I was flattered they came in for me again.
"My granddad, Joe Eddy, was a massive Bishops fan and always talked about them. Sadly, he passed away in 2000, but I'd like to think he'd be very proud to see me pull on the two blues shirt."
Tarling won't have to wait long before he returns to his old stomping ground, with Bishop due to come to Moore Lane Park just five league games in, on August 26.
He added: "It will be a surreal moment and that's obviously one of the first fixtures I looked for. Aycliffe is a fantastic club and I have some unforgettable memories, but I'm a Bishop player now and I'm looking forward to a new challenge.
"It wasn't the best of starts when Colin Myers left the club just a few days after I agreed to join, if I'm honest, but I've spoken to the new manager, Tony Lee, and we've had a really good chat.
"He's aware of me and he likes me so I can't wait to get started now."
Tarling was a strong fans' favourite during his time with Aycliffe after joining the club prior to their debut Wearside League season in 2008, playing a key role in the title-winning campaign.
He remained an influential figure as the Newtonians embarked on their first Northern League season and captained them to the second division title in 2011.
The midfielder has demonstrated his emotional connection with the club by pledging to run 25 miles from Northallerton to Newton Aycliffe next month, in memory of legendary fan Frank Swinburne, who sadly passed away earlier this year after a short battle with cancer.
Tarling was one of the pallbearers who carried Frank into St Mary's Church for a tear-jerking service in the town.
He said: "I know the club has organised an inaugural pre-season friendly with Northallerton when fans will walk 25 miles to Aycliffe, in recognition of Frank's unbelievable achievement back in 2010 when he walked from Aycliffe to Northallerton to raise cash for his beloved club.
"I'm not able to do the walk that day as I have a game with Bishop, but I still want to do my bit and raise some funds for a charity of Frank's family's choice, with a percentage also going back to the club, and Bishop have been very understanding in allowing me to do it.
"I know if Frank was still with us he'd be kicking my backside for leaving, but hopefully this will be a fitting tribute to a great man."
Donations to Tarling's fundraising effort can be made via PayPal to [email protected] – we'll carry updates on his efforts and how much cash is raised.