EXCLUSIVE: Hitachi Rail's chief operating officer for Rolling Stock UK Ross Nagle talks to Peter Barron about how the company has risen to the challenges of the past year – and is investing in the future at Newton Aycliffe…
Pictures by Graeme Rowatt
When someone with the global track record of Ross Nagle describes the team he works with as "truly world-class", you can be sure he knows what he's talking about.
During a working lifetime in engineering, Ross has managed multi-billion pound projects in a long list of countries – but he has never felt prouder than he does now, leading the team that builds trains in County Durham.
The statistics underline the impact Hitachi Rail has had since it opened its Newton Aycliffe factory in 2015: not only has more than £110m been invested in the plant itself, but £1.86bn has been pumped into the UK supply chain.
And, as chief operating officer for Rolling Stock UK, Ross can look back on the unprecedented challenges of the past year with enormous satisfaction: "I don't use the word 'phenomenal' often, but it fits what's been achieved here over the past year," he says. "I honestly could not be prouder to be part of a team that is truly world-class."
As the seriousness of the Covid-19 pandemic was dawning last spring, Hitachi Rail – like businesses across the world – had to adapt quickly. Risk assessments, taking social distancing into account, were needed on around 2,000 processes. The right equipment and test systems had to be in place. And preparations had to be made for 35 per cent of staff to work from home.
With 700 employees on site, it was a momentous task. Manufacturing paused on March 23, but production resumed within just 14 days, with minimal use being made of the Government's furlough scheme.
Ross believes effective communication was at the heart of that successful transition period. "At the beginning, people were getting lots of mixed messages – from the media, the Government, their friends and colleagues – so we spent a lot of time as a management team getting the communication right.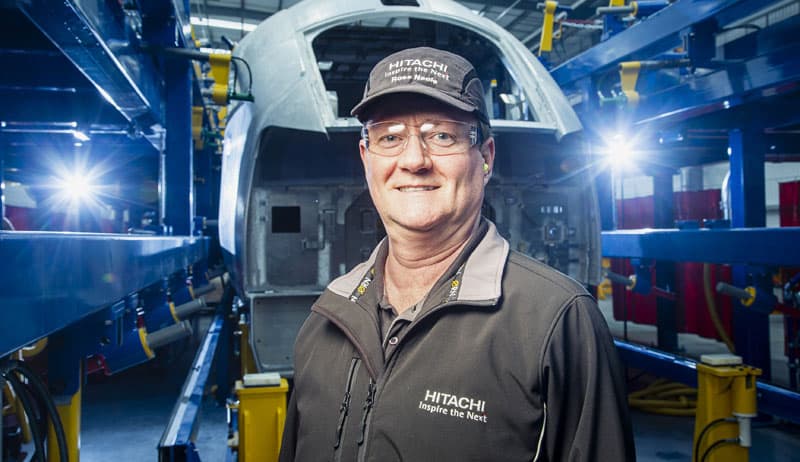 "We were very transparent about the difficulties, and what needed to be done, and everyone responded incredibly positively."
Key partners – including the Unite union – were part of that open communication, and the remarkable result is that Hitachi trains have continued to roll off the Newton Aycliffe production line throughout three national lockdowns.
Playing a pivotal role in one of the world's highest profile engineering companies, in the midst of the biggest public health crisis in a generation, is pretty impressive for someone whose first ambition at school was to be a car mechanic.
Born in Edinburgh, Ross grew up in West Lothian. His father, Christopher, spent 20 years in the Parachute Regiment, joining The Army at 15 after lying about his age, and had hopes that his son would also pursue a military career.
Instead, Ross went to college to study mechanical engineering before landing a job with the Nippon Electric Corporation (NEC) at a time when the organisation was booming, and opportunities came thick and fast.
Having gained experience in equipment engineering and manufacturing, Ross rose to a supervisory level, and developed a hunger to know more about the managerial side of business operations. With NEC unveiling plans to build a new facility, the chance came up to travel to Tokyo as part of the core project team. It was such a novelty that Ross and the four colleagues in the team even made the local paper, the West Lothian Courier.
After Tokyo, Ross spent three and a half months in Kumamoto, learning more about technical processes, and the Japanese experience enriched him both culturally and professionally.
"It opened up a different world for me," he recalls.
"Japanese people are extremely hospitable, and we were forever being introduced to different people, wanting to practise their English."
He returned home with a sharpened appetite for backing up his practical experience with academic qualifications, so embarked on a master's degree in business at Edinburgh's Napier University.
Sadly, in 2001, NEC closed its West Lothian site after becoming uncompetitive in the wake of the semiconductor market being flooded from South Korea. It was a massive blow to the Scottish economy, with a total loss of 35,000 jobs.
Armed with his master's degree, Ross sought pastures new, and headed to the south of England to join BAE Systems as head of operations (manufacturing) in Rochester, working on programmes that included the Eurofighter, Joint Strike Fighter, and the Tiger helicopters made famous by the James Bond films.
With his reputation growing, he was headhunted to become European director of the Gates Corporation, and impressed further by successfully managing additional projects in South America. An offer to be UK managing director followed, and the rise continued when he was made vice president, then European senior vice president, ending up looking after 11 manufacturing facilities and four distribution facilities.
Ross joined Hitachi Rail in 2017, as chief operating officer for manufacturing, before taking over as COO Rolling Stock UK in 2020, the year of Covid-19. It is a testament to his leadership, and the quality of the rest of the team, that Hitachi Rail not only maintained production but invested in the future despite such global economic uncertainty.
An additional £8.5m has been spent in converting warehousing into bespoke welding and painting facilities on the site, as further evidence of the company's long-term commitment to the North-East.
It means the plant will become a full-scope train builder, making its own high-tech aluminium carriage shells, instead of importing them. The new facilities will be used to build the next generation of intercity trains for East Midlands Railway and Avanti West Coast, with the expansion of manufacturing capabilities making the factory globally competitive. The investment will also lead to 40 new roles and extensive upskilling of staff.
And, in a UK-first, Hitachi Rail has signed an exclusive agreement with Eversholt Rail, aimed at bringing battery power – and fuel savings of more than 20 per cent – to the modern Great Western Railway Intercity Express Trains, carrying passengers between Penzance and London.
The green experiment is further evidence of the pioneering spirit that attracted Ross to Hitachi four years ago and, despite all he has already achieved around the world, he is excited by what the future holds.
"Everyone needs a purpose in life, and Hitachi helps me deliver on that purpose every day – through the wider impact we are having on society," he says.
"We do that by providing employment, supporting the supply chain, being part of the community, and investing in the latest transport technology that's the backbone of industry."
There's a pause before Ross Nagle adds a final thought: "Ultimately, when you boil it down, our job is all about connecting people."
And, at the end of a year that has caused so much separation, that has never been more important.