Lib Dem candidates Michael Stead and Nev Jones have rocked local Labour with shock wins in the 2021 Durham County Council elections.
The pair stormed to comfortable victories in their Aycliffe wards, with both taking seats from Labour.
Popular community champion Nev – co-owner of Aycliffe bus firm J&C Coaches – stormed to a landslide win in Aycliffe East, polling 966 votes.
The nearest to him was Labour candidate Jim Atkinson, who retained the seat he won four years ago with 556 votes.
Labour had hoped Wendy Hilary could have retained Labour's other seat in the ward previously held by Sarah Iveson, but she finished fifth in the poll behind Conservative and Lib Dem candidates.
"I'm absolutely made up, elated!" Nev told Aycliffe Today.
"This is just the start, I have plans and I want to make a real change.
"I'm passionate about Aycliffe, I've lived there all my life, and I just wanted the opportunity to make a difference, so I'm absolutely thrilled.
"But it isn't just about me. I've had so much help. My family especially, my kids helping me deliver leaflets, the Lib Dem party have been amazing. Too many to mention but I thank them all for a great team effort."
In the Aycliffe North and Middridge ward, declared earlier on Friday, Stead – with 1,130 votes – finished second to Tory candidate David Sutton-Lloyd, who polled 1,269.
With Tony Stubbs from the Tories getting 905 votes – and his party retaining their two seats in the ward – Stead effectively took John Clare's seat from Labour.
"I'm absolutely over the moon," said Stead, who was elected to Aycliffe Town Council in a 2020 by-election.
"We've put a lot of hard work in that seems to have paid off.
"The turn-out was a lot higher, so I'm over the moon the people of Aycliffe North, Woodham and Middridge understand what we're trying to do.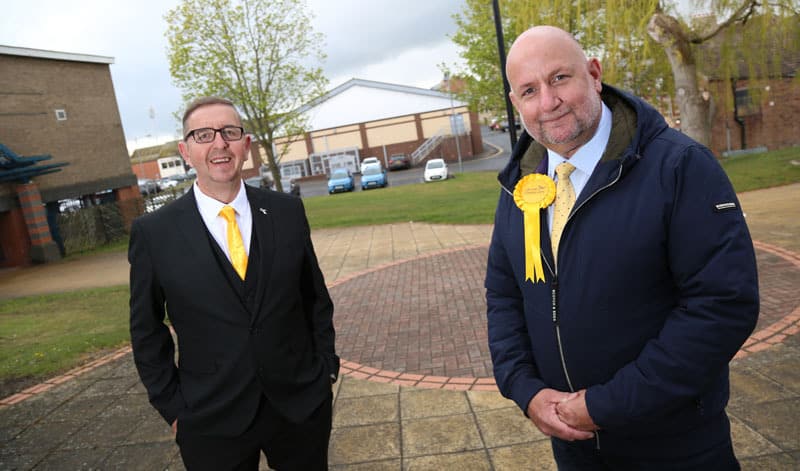 "I'm passionate about the simple stuff – litter picking, dog fouling bringing rats on to the town. And the bigger stuff like we have a school with portacabins, lots of things need happening and questions need to be asked on every level, and I'm looking forward to doing that."
Independent candidate Ken Robson took another seat off Labour in the Aycliffe ward election, with Kate Hopper falling victim there, while Labour's Eddy Adam retained his seat.
Aycliffe North & Middridge result:
Kathryn Beetham (Labour) 494
Dorothy Bowman (Independent) 447
John Clare (Labour) 823
Sandra Haigh (Independent) 197
Jed Hillary (Labour) 474
Andrea Miller (Lib Dem) 621
John Moore (Independent) 462
Maureen Shelton (Lib Dem) 130
Michael Stead (Lib Dem) 1,130 ELECTED
Tony Stubbs (Conservatives) 905 ELECTED
David Sutton-Lloyd (Conservatives) 1,269 ELECTED
Aycliffe East result:
Tony Armstrong (Lib Dem) 449
Jim Atkinson (Labour) 556 ELECTED
Bob Fleming (Independent) 376
John Grant (Reform UK) 114
Brian Haigh (Independent) 197
Wendy Hilary (Labour) 417
Neville Jones (Lib Dem) 966 ELECTED
Martin Peeke (Conservatives) 518
Aycliffe West result:
Eddy Adam (Labour) 539 ELECTED
Michaela Banthorpe (Freedom Alliance) 40
George Gray (independent) 354
Kate Hopper (Labour) 434
Elizabeth Maw (Cons) 350
Ken Robson (Independent) 439 ELECTED
James Walsh (Lib Dem) 196
Paul Whiting (Lib Dem) 259