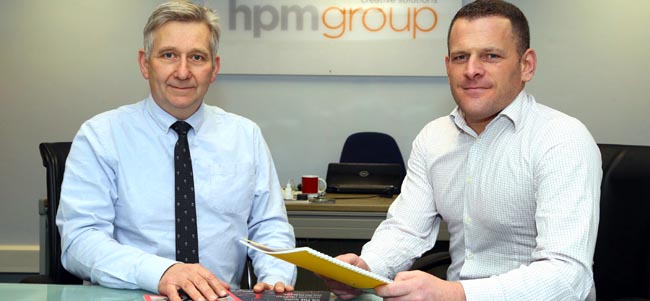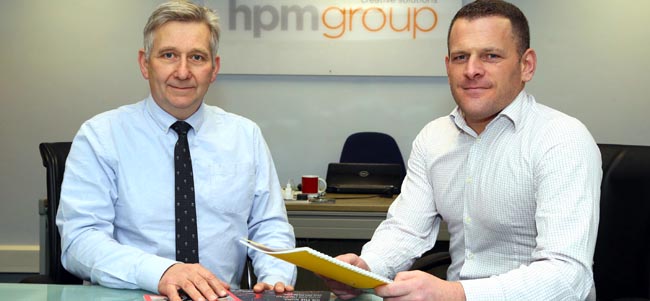 A leading North-East media company has added a creative writer to its ranks.
Newton Aycliffe-based HPM Group has evolved in recent years to become a multi-service agency specialising in visual communications and marketing.
But now it has added a new area of expertise to its services, with the appointment of copy writing and PR consultant Martin Walker from nearby firm Mantis Media, who's also the editor of Aycliffe Today.
HPM managing director Richard Mortimer (pictured above, left, with Martin) said: "We live in a forever changing world, and a multi-service agency like HPM needs good, creative writers like Martin.
"He not only has the ability and passion to turn his hand to any subject and write about it well, he also has a track record of delivering.
"Our clients can now benefit from the skills Martin has to offer, meaning we can now complement our imaginative designs with excellent in-house copy.
"It also means our clients can benefit from the PR skills Martin brings to the table, which we think will be another valuable tool for us."
Martin first started working with HPM Group in 2000, when he joined Middlesbrough FC's publications team and HPM was designing and printing Boro's match programmes.
"I'm delighted to be working so closely with one of the region's biggest media companies," said Martin, director of Mantis Media, also based on Aycliffe Business Park.
"HPM's new media work and interactive projects are innovative and very exciting, and I'm looking forward to bringing something new to the table."
HPM Group, based on Aycliffe Business Park, employs 45 staff and operates a 24-hour agency and printing service, with a turnover of £4.5m a year, and works with the likes of PWS, Wynyard Hall, Durham University and the University of Huddersfield as well as several private sector agencies.
The company was the first to reside on Park 2000 at Heighington Lane Business Park in Aycliffe when it relocated there from Bishop Auckland in 2000. Since then they have evolved into the marketing, creative, print and new media experts.
More details about HPM can be found at www.hpm.uk.com
More details about Mantis Media are at www.mantis-media.com