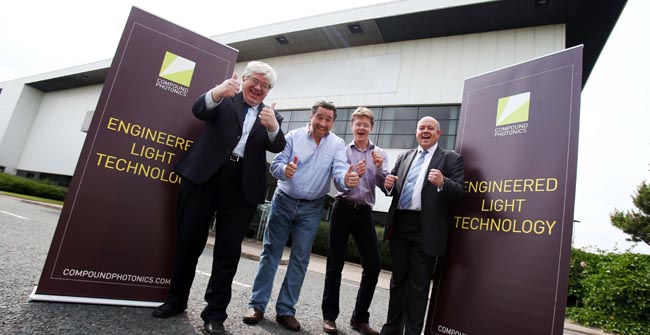 Confidence in Aycliffe Busness Park is flying high after an announcement to save a threatened factory completed a hat-trick of good news stories.
It was revealed on Wednesday that a buyer had been found for the RFMD plant, with Arizona-based Compound Photonics taking on the troubled site.
The news came a day after neighbouring Ebac announced plans to create 100 new jobs by manufacturing freezers at its Aycliffe factory, and less than a week after Hitachi's new £1.2b train deal.
RFMD, a designer and manufacturer of high-performance radio frequency solutions, said in March that it expected to phase out manufacturing at the Aycliffe facility and move manufacturing to its North Carolina facility in the US.
It was set to close down, with the loss of all 200 jobs, and while more than 100 staff have already been made redundant, Compound Photonics has promised to safeguard the 78 existing jobs, while pledging to take the number of employees back up to the 200-mark.
Kerina Clark, Xcel Centre manager and chair of the Aycliffe Park Park (ABP) steering group, said: "It's absolutely fantastic news. We know Business Durham has been working hard to find a buyer for some months and to hear they've not only found one, but also that the new jobs are expected to be created, is wonderful to hear.
"After other recent announcements regarding Aycliffe, this really demonstrates a huge confidence in Aycliffe Business Park right now and shows how much people want to be here. It certainly is the place to be for business."
The Labour MP for Sedgefield, Phil Wilson, added: "This is the third bit of great news for Newton Aycliffe within a week and it's fantastic for the town.
"It's great to hear that current jobs are being saved, with the plan to create more new jobs in the near future, and it's further testimony that Aycliffe Business Park is very much a magnet for firms now, from all over the world."
Durham County and Aycliffe Tpwn Councillor John Clare said: "This is testimony to the hard work being done by so many people to get Aycliffe's economy thriving – to whom, many, many thanks from the people of Great Aycliffe."
Business Durham, the business arm of Durham County Council, has been working hard with interested parties to save the factory.
Dr Simon Goon, Business Durham's new managing director, said: "We're absolutely delighted that Compound Photonics has chosen to locate here.
"The factory has a long history of technology-led manufacturing and we are thrilled that the news that it is now likely to become the largest manufacturer of laser diodes in the world, employing a team of specialist scientists, engineers and technicians."
Compound Photonics' acquisition of the Aycliffe facility adds to its existing operations based in London and the US.
President and CEO Jonathan Sachs said: "The availability of the facility at Newton Aycliffe is a fantastic opportunity for Compound Photonics.
"The facility, the equipment and the highly-skilled workforce will enable us to significantly expand our manufacturing capacity to meet the demand of global markets for a new generation of projection products."