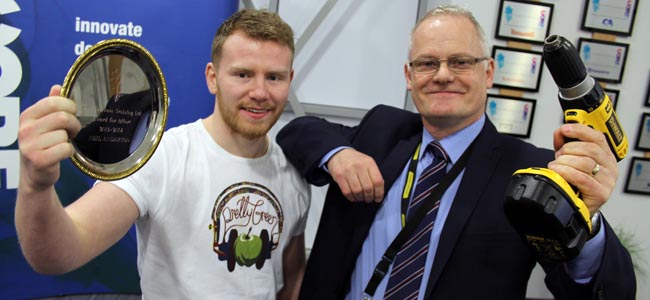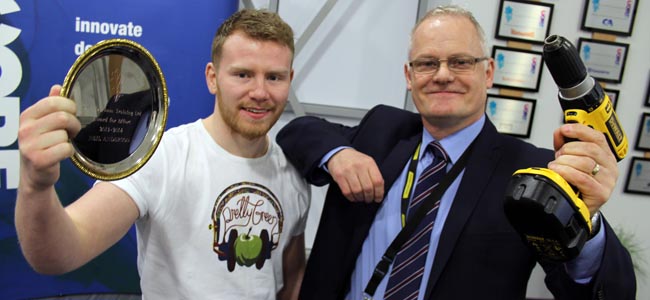 A global manufacturing boss returned to his former training college after nearly 35 years to present awards to talented young engineers.
Colin Thirlway, who qualified as a maintenance apprentice from South West Durham Training back in the early 1980s, is now Director of Global Product Compliance at Stanley Black & Decker.
Appearing as a guest speaker at the training provider's 47th annual awards evening, he gave an inspirational address to the trainees, talking fondly of his own time at South West Durham Training and his career since.
He was joined by fellow guest speaker Amy Lyons, Product Manager at Seawards Electronic, who qualified from SWDT in 2004.
Awards sponsored by local engineering firms and training providers, were presented to 11 students who each received cash awards and engraved silver salvers.
Colin, pictured (above, right, with Neil Anderson, one of the winners, said: "I have fond memories of my time as an apprentice at South West Durham Training all those years ago and have been lucky enough to have enjoyed an extremely rewarding career since.
"I was honoured to return here to present well deserved awards to these hard working and talented students and hopefully help inspire them to further success."
Trevor Alley, Chief Executive of South West Durham Training – a subsidiary of Bishop Auckland College, added: "Our annual awards ceremony is a showcase occasion and we are extremely grateful to both Colin and Amy for taking the time to join us.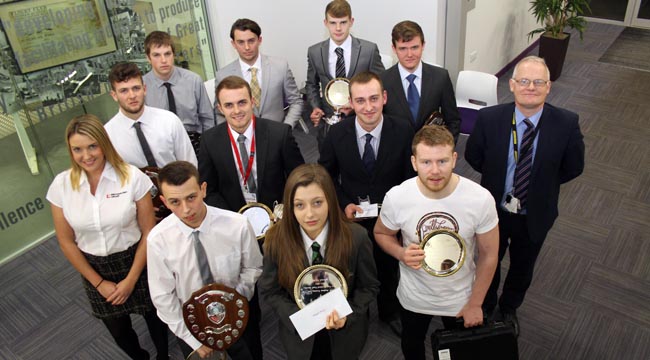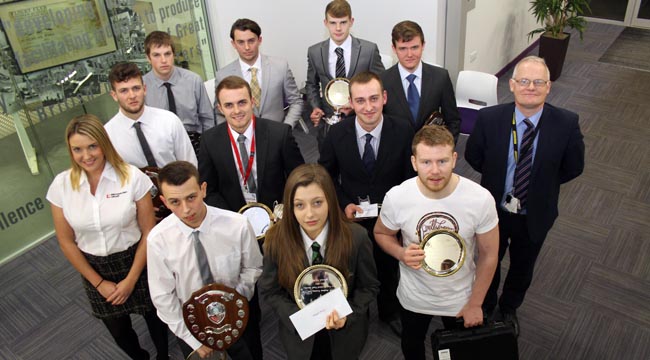 "Our students receiving awards were clearly inspired by their own impressive achievements in industry and the invaluable advice they gave them."
The award winners were:
Best Year 10 Pupil Award – sponsored by Bishop Auckland College
Megan Pluse – Woodham School Academy
Best Machining Skills Award – sponsored by Surtec
Connor Lyon – Mold Systems
Best Electrical Award – sponsored by Lorimer Electrical
Nathan Bresnan from Husqvarna
Best Mechanical Award – sponsored by Nifco
Scott Maclean – from Husqvarna
Best Fabrication Award – sponsored by Mech Tools & SWDT
Liam Simpson – Cleveland Bridge
Award for Effort – sponsored by Stanley Black & Decker
Neil Anderson – Witton Castle
Health & Safety Cup – sponsored by North Yorkshire & South Durham Health & Safety Committee and IOSH
Andrew Fletcher – Bonds Foundry presented by David Allison
European Exchange Programme – sponsored by PTSM Best exchange student
Mathew Emery – Firetech
Timely Achiever Award – sponsored by David Allison (former Health & Safety Officer at SWDT)
Daniel Cole – Finley Structures
Final Year Advanced Apprentice Award – sponsored by Cummins
Andrew Morgan – Renown