By Steven Dawson
It has been another busy week for Aycliffe Running Club which included the return of one of the country's most iconic races.
The week started with the sixth and final race of the Muddy Roads Summer Trail races and the Newham Grange Farm 5k.
Representing the club were Matt Muir (19:51) and David Stothard (25:44).
There was positive news in the overall series of races with John Surtees finishing first overall in the senior male category and Matt Muir second.
In the Senior Female Category, Tracey Surtees finished first to make it a clean sweep for the club.
On Saturday, September 9, one member took part in the 22nd Castleton Show in North Yorkshire.
This is described as a road race for fell runner of approximately 6 miles through the heart of the North Yorks Moor National Park.
Trish Kay was the sole representative finishing second in the female over 60 category in a time of 1:01:41.
Sunday saw the return of the world's biggest half marathon, the Great North Run.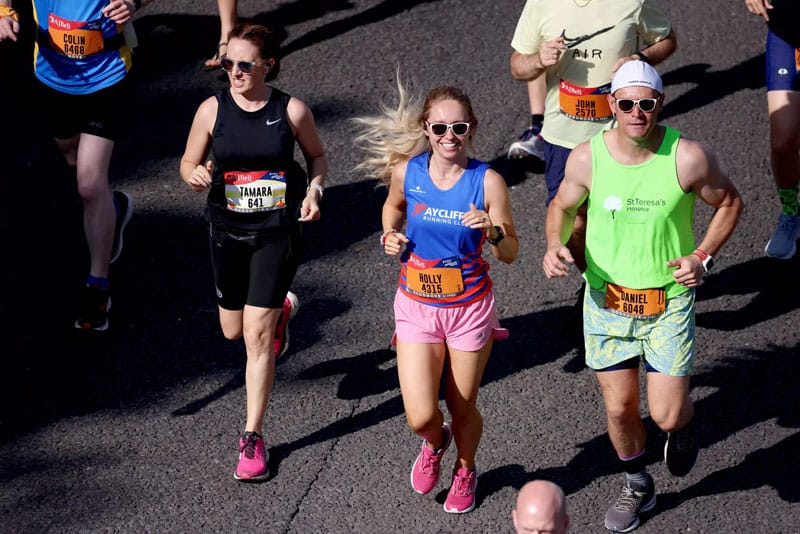 This saw runners, run 13.1 mile from Newcastle, over the Tyne Bridge, before making their way to the sea front at South Shields.
Conditions on the day were tough with hot weather to start and for some of the later finishers, having to put up with heavy rain which soon led to flooding causing chaos for those trying to get home.
Despite the weather, there were some excellent performances from everyone with running a half marathon an achievement in itself.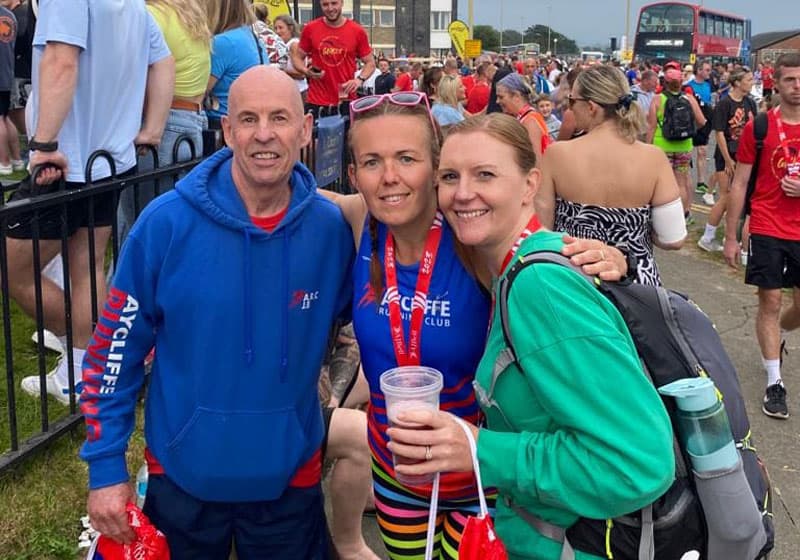 Thirty-two members represented the club including Richard Trowles, smashing his personal best (1:22:01), Matt Muir breaking his personal best by two minutes (1:30:28), Stephen Dunn who also set a new personal best despite struggling with injuries in the lead up to the race (1:45:16), Stuart Joyce (1:46:50), Richard Holland (1:47:02), Bernadette Cooper smashing her personal best by over 5 minutes (1:48:37), Daniel Tatham (1:55:06), Kev Tatham (1:58:32), Tamara Kirk setting a new person best (1:59:01), Dan and Holly Shoulder both running together (2:01:25), Sarah Gill in her first Great North Run (2:02:49), Laura Hudson (2:05:43), Shelley Ramsey (2:07:11), Richie Johnson (2:10:00)Carley Cooper (2:11:14) Michaela Kerr (2:13:32), Keiran Hornsby (2:13:38), Steve Williams (2:17:44)Sammie Metcalfe (2:19:02), Sue Podmore (2:20:32), Beverley Philippo (2:22:19), Judith Porter (2:23:35), Viv Williams knocking over 4 minutes off her personal best (2:23:44) Eve Doe (2:32:08), Richard Tonge (2:37:16), Nici Ingman (2:38:27), Denise Evans (2:43:58), Susan Clark (2:45:32), Jane Quigley (2:55:07), Emma Flynn (2:55:32) and Craig Robinson who supported his daughter in her first ever Great North Run (3:49:29).
A special mention for John Burnside who has completed every single Great North Run since it started. This was his 42nd, which is an amazing achievement and he finished in a time of 2:16:24.
On the same day, three members took part in the Vale of York series of races.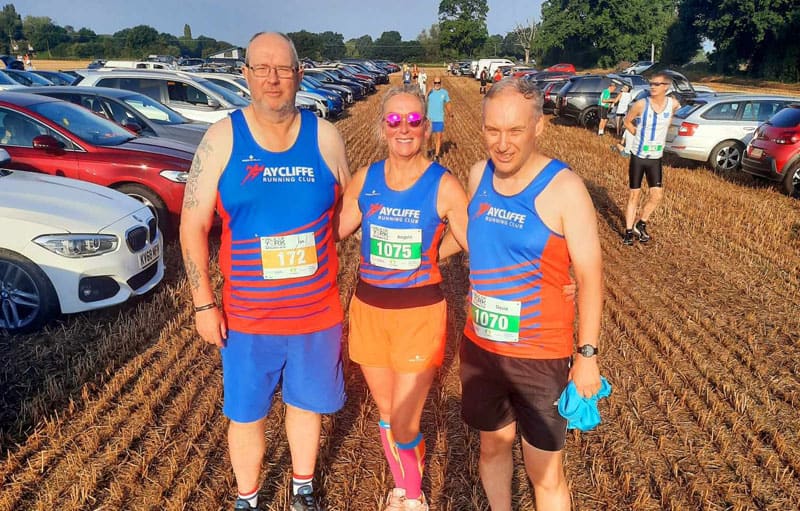 Angela Surtheran (1:59:10) and David Stothard (2:13:48) both took part in the half marathon, with Ian Stothard (1:15:38) taking part in the 10k race.
On Saturday, 27 members started their weekend with a parkrun, taking in the Town Moor, Sedgefield, Darlington South Park, Hackworth, Newbiggibn-by-the Sea, Monaghan Town, Hamsterley Forest, Ashington Community Woodland and Thorp Perrow events.
At Town Moor, David Thompson completed his 25th run at this event in a time of 32:16.
At Darlington South Park, John Surtees finished second in a time of 17:25. Tracey Surtees finished as second female in a time of 21:26.
At Hackworth Richard Trowles (18:49) finished first, setting a new personal best for the course. Gareth Hamblin (20:46) finished third also setting a new personal best for the course. Bernadette Cooper finished as first female in a time of 23:10.
At Newbiggin by-the-Sea, Steven Williams (25:55) and Viv Williams (29:33) both completed the course for the first time.
At Ashington Community Woodland, Carley Gibson (28:30) and Emma Flynn (33:03) both continued their parkrun tourism, completing the course for the first time.
At Thorp Perrow Paul Dalton (21:59) and Jayne Rudd (32:23) both took part in the inaugural parkrun on a new and testing course.
If you are feeling inspired and are interested in joining the club or want to take your running to the next level, you can turn up for one of our sessions, or email [email protected].