A man originally from Newton Aycliffe has been selected for the Great Britain Sitting Volleyball team as they prepare for the first international Sitting Volleyball tournament to take place in the UK since London 2012 Paralympics.
Darren Young, 53, who suffered a life changing injury whilst training with the Royal Air Force, took up Sitting Volleyball after being released on medical discharge.
He has been working towards GB team selection for the ParaVolley Silver Nations League which will take place in Nottingham from May 19-23.
The event will see nine teams from across Europe come together in what is a crucial tournament for Great Britain as they aim to try and secure qualification for the 2024 Paralympics in Paris.
Young said of his selection: "I am proud to once again be selected to represent my country in Sitting Volleyball and cannot explain how important the sport has been for me in terms of my physical and mental well-being.
"After sustaining a serious back and neck injury during a training exercise as a firefighter in the Royal Air Force, my life changed, and eventually I was discharged from the Air Force.
"After witnessing all the amazing athletes at the London 2012 Paralympics, I was inspired and wanted to try and be part of that buzz, but due to my injuries I never thought I would ever be part of a sport what could 'take me there'.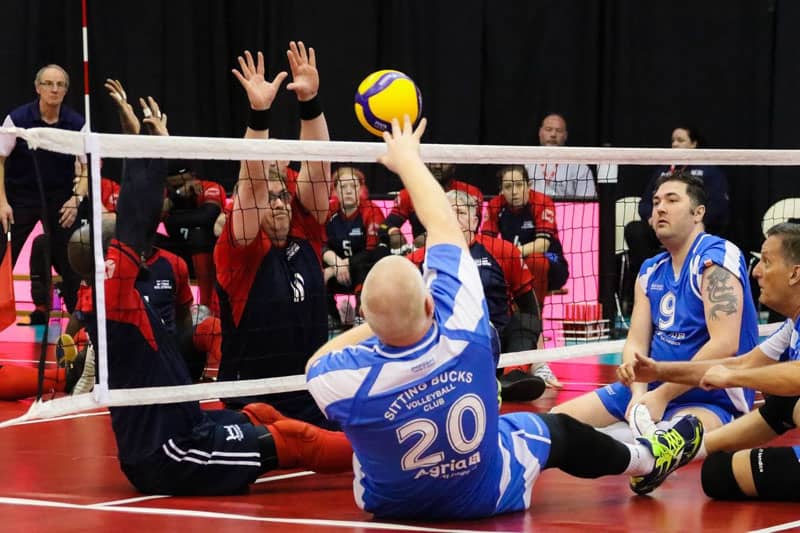 "Then I discovered Sitting Volleyball, and five years and one day after hearing about the sport I was called up and played in my first international game against Germany in 2022.
"I really struggle with clinical depression and if it wasn't for my family and for sport, I wouldn't be here.
"I got to a point where I was on the verge of suicide due to the level of constant pain I am in.
"I am in so much pain I have to take pain killers to be able to give me enough relief to play and perform.
"Playing sitting volleyball for GB has given me some kind of closure. It helps me separate my two lives – before and after my injury.
"Sport has brought me back to my wife and son and sitting volleyball has given me another focus in my life."
Darren continued: "I still pinch myself every time I train with fellow teammates who played in that 2012 Paralympics.
"They are great guys and still at 53 years of age I aspire to be like them playing the sport we now all love.
"I can't wait to take on some of the best teams in Europe at the Silver Nations League in Nottingham. And hopefully secure some wins as we continue to try and qualify for Paris 2024"
Sitting Volleyball is a fast and exciting sport, played sitting on the floor by men and women of all ages.
It is a perfect team sport for amputees and individuals with limb difference. It is played without a prosthetic which makes the game a great leveller for people with different types and levels of impairment.
British Volleyball are always looking for new Sitting Volleyball players, both with and without a disability, to join local clubs and compete in the national domestic league.
A Club Finder is available on the Volleyball England website volleyballengland.org
ParaVolley Silver Nations League takes place at the David Ross Sports Village at the University of Nottingham next week. For more information visit britishvolleyball.org