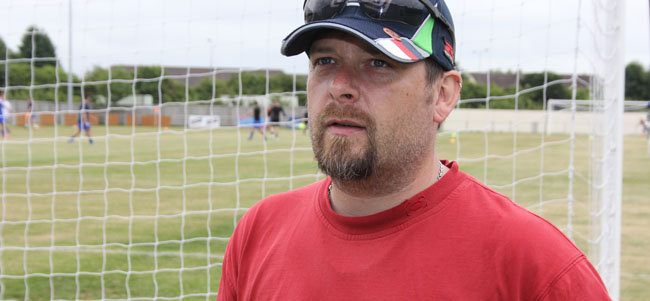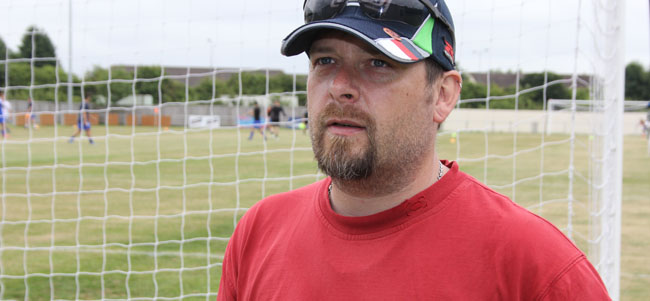 Hundreds of pounds was expected to be raised at Newton Aycliffe FC after an emotional day to celebrate a club legend today (Saturday).
Aycliffe organised the Frank Swinburne Memorial Day, which involved fans trekking 25 miles from Northallerton back to the town.
Others cycled the route to replicate in reverse Frankie's Aycliffe-to-Northallerton walk back in 2009.
The club then played Northallerton in a pre-season friendly at Moore Lane Park – in the inaugural Frank Swinburne Memorial Cup – with a post-match presentation by the Swinburne family followed by a BBQ.
For fan Peter Allison (pictured), it was an emotional occasion. He and Frank famously completed the 25-mile walk nearly four years ago.
Today, Peter took 11 gruelling hours to walk from Northallerton back to Aycliffe.
And, adding a truly special touch to the day – and with the blessing of Frank's wife and family – he sprinkled some of Frank's ashes in different places along the way before scattering some on Frank's beloved Moore Lane Park pitch.
"It's been an emotional day," said Peter.
"I pulled a muscle in my leg earlier in the week so I found it hard. I came close to stopping until some of Frank's family caught up with me on their bikes and gave me the boost I needed."
Aycliffe hope to raise more than £2,000 from their efforts today, with the proceeds being split between the club and a charity of the Swinburne family's choice.
We'll bring more pictures and a special video feature of the day early next week.