As Aycliffe Business marks its 10th year, Martin Walker and Dave Allan, directors of Resolution Media and Publishing, talk to Peter Barron about overcoming the challenges of the pandemic – and look ahead with confidence to 2023…
As they sit together in the boardroom of their smart offices, a short walk from Middlesbrough's iconic Transporter Bridge, Martin Walker and Dave Allan can afford a sigh of relief at having successfully navigated the troubled waters of the pandemic.
Like countless other business leaders worldwide, they feared for the future when Covid-19 struck in the spring of 2020 – and it certainly hasn't all been plain-sailing.
But not only did their business, Resolution Media and Publishing, survive the biggest public health crisis in a generation, the company has emerged stronger than ever.
The facts speak for themselves: turnover up more than 50 per cent; new publications launched; an expanded events programme; more jobs created; a move to bigger offices; and the core product – Tees Business – has cemented its position as the one of the best-known brands amongst the region's business community.
"It really was a frightening time when the first lockdown was announced," admits Martin, who also runs Aycliffe Business Park firm Mantis Media, the publishers of Aycliffe Business, which celebrates its 10th year in December.
"But we dug in, adapted, and we have to be happy with the way the business has grown."
Named after one of local hero Captain Cook's vessels on which he achieved famed voyages of discovery, Resolution can now look ahead confidently to 2023, with ambitious plans for more publications, more events and more jobs.
And that's a justifiable source of pride for the friends and business partners who met while working together at Middlesbrough Football Club more than 20 years ago.
Dave had joined the club as programme editor and press officer in 1994 during its final year at Ayresome Park, going on to become media manager, while former Gazette journalist Martin joined the club's media team in 2000.
After their careers went in different directions, they launched their own public relations agencies and, in early 2012, Martin set up the Aycliffe Today website, followed by a glossy magazine of the same name, which was later rebranded Aycliffe Business.
He took the magazine to Dave, suggested that the model could work well on Teesside, and Tees Business was born.
"We spent time speaking to contacts about whether there was a need for a business magazine on Teesside, and the clear answer was 'yes'," says Martin.
"The so-called North-East business media was very Tyneside-centric, so there was a big gap in the market."
The first issue of Tees Business was published in 2015 and, for the first two years, Dave and Martin did everything – writing, photography, sales and distribution – working round the clock to make it work.
"There were times when we questioned whether it was all worth it," admits Dave. "But we were always convinced about its potential."
After laying those solid foundations, the growth curve became steeper. The Tees Businesswomen Awards were launched in 2018, and Wear Business magazine was added to the company portfolio at the end of 2019.
Just as it was all going so well, Covid-19 struck in March 2020. The two additional members of staff on the books at the time had to be furloughed, and there was a further setback when Tees Life – a lifestyle magazine – had to be shelved.
However, Dave and Martin quickly regrouped. They made a commitment to continue publishing their magazines, while adapting swiftly to a digital output, and the furloughed staff were able to return within two months.
The acceleration of the company's digital activities included Tees business leaders being invited to take part in weekly online Q&A sessions as a way of staying in touch during the first lockdown.
Then, the inaugural Tees Tech Awards were staged as the area's first major virtual event, with all sponsors remaining loyal.
The commitment to print also didn't waver. Just as lockdown was beginning, Resolution won the contract to publish Middlesbrough Council's quarterly Love Middlesbrough magazine, and the team have revitalised the publication.
"When and pandemic threw everything up in the air, we not only managed to catch most of it as it came back down, but rearranged the rest to our advantage," reflects Dave.
And despite the global economic turmoil, Resolution finds itself in better shape than ever, having continued to invest in products, events and staff.
The latest addition to the portfolio in November 2021 was the inaugural Best New Tees Business Awards at Kirkleatham's Walled Garden Pavilion.
In the meantime, the business has moved across the road to more spacious offices in Middlesbrough's Plenary BV House – formerly the home of the town's ironmasters Henry Bolckow and John Vaughan.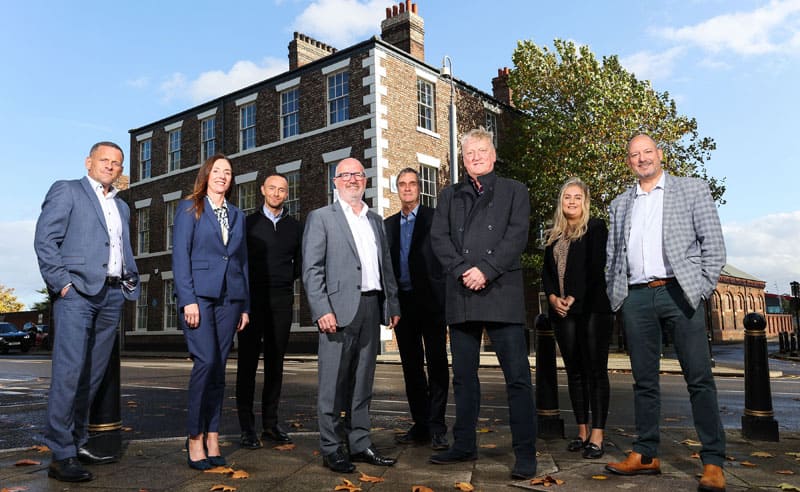 A full-time team of seven is complemented by a growing and highly-experienced team of 20 local freelance writers and photographers, while local designer Sarah Carlton, of Design by Kinship, has provided the creative flair of all publications, including Aycliffe Business since its inception.
Meanwhile, former Gazette and Trinity Mirror (now Reach) managing director Bob Cuffe – brought in as non-executive director four years ago – continues to be a high-profile driving force.
A full-time team of seven is complemented by a growing and highly-experienced team of local freelance writers and photographers, while former Gazette and Trinity Mirror (now Reach) managing director Bob Cuffe – brought in as non-executive director three years ago – continues to be a high-profile driving force.
"My role is to support – and challenge – Martin and Dave on the long-term strategy and how we achieve it," says Bob.
"They were superb through the pandemic: pivoting the business from print to digital, and firmly establishing themselves as the Voice of Business on Teesside.
"They're respected by the Teesside business community and are now multi-media publishers with exciting growth plans."
Proud of the team they've built, Dave and Martin have a fundamental belief that quality journalism is at the heart of the business.
"Print isn't dead," says Dave. "There's still a huge appetite for it, but it has to be built around professional, engaging content that people want to read."
The evidence is there for all to see. When Tees Business was first published seven years ago, it had 36 pages. Their record issue this year had 156 pages, and a glance over the back cover – a who's who of Teesside businesses – shows the depth of the partnerships in place, including Teesside University, PD Ports, Middlesbrough College, Cleveland Cable Company, AV Dawson and Tees Valley Combined Authority.
So, what does 2023 have in store for Resolution Media and Publishing?
Tees Business will, of course, remain as the core product. Love Middlesbrough will continue to be delivered to 67,000 homes, and talks are planned with other local authorities about their magazines.
They'll also build on the relaunch of their national publication, This Is Tees Valley – the second issue was launched with fan fair at Teesside Airport in June, headlined by Tees Valley mayor Ben Houchen – while the Tees Business Awards and Wear Businesswomen Awards will debut in 2023.
"We are also working on really exciting plans for new events, and we're developing an idea for another niche magazine, which we're confident is going to be a huge success," says Martin.
"And all this while Aycliffe Business approaches its 10th anniversary – something which I'm hugely proud of."
Covid-19 has shown, unforgettably, how unpredictable life is. But, in business, it has also demonstrated the importance of teamwork, adaptability…and a strong Resolution.
AYCLIFFE BUSINESS
To promote your business in Aycliffe Business, call 01325 728024 or email [email protected].
RESOLUTION
Resolution Media and Publishing have a range of products available for businesses to use as PR, advertising, recruitment or promotional purposes.
They include Tees Business, This Is Tees Valley, Love Middlesbrough, Wear Business, the Tees Businesswomen Awards, the Tees Tech Awards, the Best New Tees Business Awards and the Wear Businesswomen Awards – with more to follow!
To enquire about any of these, call 01642 450255 or email [email protected].