On a fantastic night of celebration, The Verve Group's CEO Cathi Harrison and interior design specialists Cocoon & Bauer were among the big winners at the sixth Tees Businesswomen Awards.
And it was a special – and emotional – night for Pat McBride, whose selfless dedication to helping Teesside families over many years earned her a standing ovation when receiving the Jane Turner Award for Outstanding Contribution.
Around 400 people gathered at Hardwick Hall's plush Grand Marquee to celebrate the Tees region's amazing array of female business talent.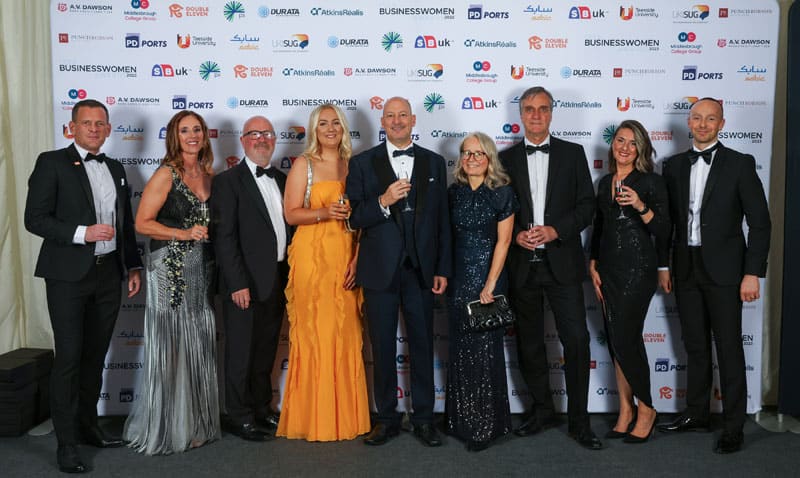 Organised by Tees Business – sister publication to Aycliffe Business – in association with Middlesbrough College Group, the winners of 12 awards were revealed at the event – which was hosted by TV and radio presenter Charlie Charlton and also featured a keynote speech from renowned Teesside astrophysicist, Professor Carole Haswell.
The event bristled with excitement and emotion as the names of the finalists, and then each category winner, were read out.
And when it came to the blue riband prizes, it was quite a night for interior design specialist Cocoon & Bauer, which picked up the coveted Business of the Year title, and for the founder, sole owner and CEO of Darlington-based The Verve Group Cathi Harrison, who was named Tees Businesswoman of the Year.
A "shocked" Cathi told the audience: "If you think of a successful financial services firm, you'd typically think of men in suits in Canary Wharf – that's the cliché.
"But we've shown that you can be a successful female financial services firm based up in the North-East.
"It's so important to be able to do that, to shout about it and get that promotion out there for people in their own businesses."
Recalling a business coaching session that helped drive her on in her career, she added: "The coach said it wasn't a coincidence I'm in finance.
"Growing up very poor, there was something in me that meant I wanted to educate myself about finance because I had none and I wanted to take control of my future.
"It's about striving to do something different for yourself and for your son so that he has a very different future to the one I maybe had laid out at me at a certain point."
Cocoon & Bauer interior designer Casey Hall said her team "didn't expect" to pick up the Business of the Year trophy. She said: "It's very exciting and I'm really proud of the team.
"The work ethic – the support, the bond we have as a team, is amazing. It's been a brilliant night – it's really nice to support other women in business and for them to support us."
The Outstanding Contribution recipient, CAUSE Foundation founder Pat McBride, was quick to thank others for their help in establishing and running a group that initially began delivering Christmas hampers more than 30 years ago and has gone on to become a massive force for good across Teesside in all sorts of ways.
She said:  "Thirty-six years ago, I was at a conference on unemployment in Middlesbrough and a young woman was brought up to speak about her experience of unemployment for her husband.
"She said she had sunk into depths of despair that she never knew existed and she was lifted out of it by gestures of kindness and love. That struck a note with me and that Christmas, we did 25 hampers from Newlands School in Middlesbrough and have done thousands more since then
"But it's a team effort – it's not just me. l'm really honoured to receive this and absolutely shocked."
But while each winner deservedly received heartfelt applause, it was about every nominee and finalist too on a night when the region's female business stars shone as brightly as ever.
Click here to see the full list of winners and finalists.