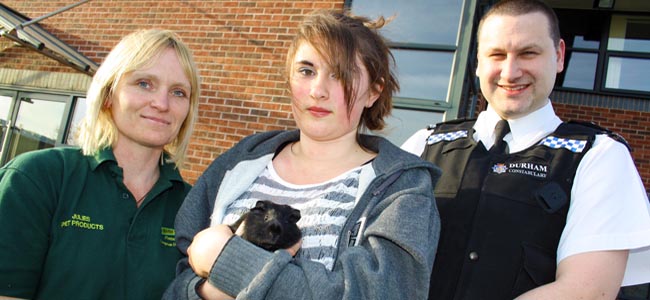 By Martin Walker
Evil thugs beheaded a Guinea Pig in Newton Aycliffe, a 63-year-old woman from the town is found guilty of stealing nearly £85,000 from the Blue Bell garage and two MPs go head-to-head at Moore Lane Park!
April was another hectic month as we continued to deliver the most comprehensive news service to Newtonians.
Today, we continue our series of monthly reviews, looking back on a memorable debut year for Aycliffe Today.
APRIL
We started the month in true traditional fashion, with an April Fool. We broke an exclusive 'story' that Aycliffe FC boss Allan Oliver had resigned! The story had the non-league message boards buzzing, with hundreds of people falling for the spoof. Click here to read more.
Aycliffe MP Phil Wilson, president of the town's football club, goes head-to-head with his Middlesbrough South counterpart, the Guisborough president Tom Blenkinsop, as the MP's clubs clash at Moore Lane Park – we interviewed them before, during and after the game. Read more here.
Meanwhile, Mr Wilson reveals his "vision" for Newton Aycliffe (read more) as part of exclusive question-and-answer interviews in our Video Vault.
In football news, NAFC win the Northern League Programme of the Year for a third successive season (read more), while boss Oliver urges his players to finish the 2011-12 season with a flourish. Read more.
In grim news, 63-year-old woman Avril Henderson was found guilty of thieving nearly £85,000 from the Blue Bell garage in the town, but avoids jail. Read more.
Aycliffe police were left sickened by a heinous crime after a defenceless family Guinea Pig was beheaded (read more) but local firm Julie's Pets came to the rescue as young Emma Howells was presented with a new pet. Read more.
Police in Aycliffe also appeal for help after a pervert exposed himself to teenage girls in the Honister Place area of the town (read more), while a burglary takes place in Guthrum Place. Read more.
Meanwhile, a man was killed on the A1 near Aycliffe after he hit a lorry driving down the South-bound carriageway (read more), Aycliffe police reveal details of organised thefts at the town's Tesco store (read more) and floods hit County Durham (read more).
In business news, Aycliffe firm Finley Structures win a £1.9m wind turbine contract (read more) and Ebac boss John Elliott reveals headline-grabbing plans to place his multi-million-pound Aycliffe business into a Trust, and pump cash into the local community. Read more here.
Hitachi Rail Europe claim their Intercity Express Programme, destined for Aycliffe, is due to be signed off "within weeks" – read more here.
Meanwhile, Aycliffe-based engineering company Tekmar say it expects to drive its turnover up to £18.5m, from £12.5m in 2011, as the offshore power sector grows. Read more here.
Phew… what a month!
Our action-packed reviews will continue over the next few days, while you can click on previous reviews below.