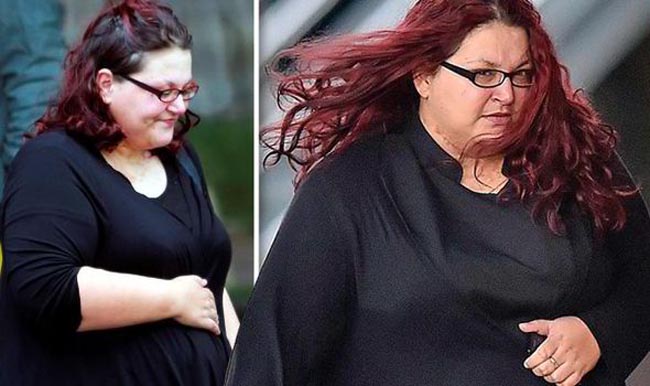 A Newton Aycliffe woman who lied about being pregnant in a bid to avoid jail has finally been locked up.
Lisa Philips, 37, tricked Teeside Crown Court when she was sentenced in October 2013 for stealing £14,700 from her aunt by saying she was expecting a child.
As a result, Judge Peter Armstrong suspended her sentence for two years.
However, the mother-of-one's lie came out and on Tuesday she was sentenced to five months in prison.
After the original case, she was pictured holding her bump outside court, arousing suspicion from her family and probation officers, who thought she may have pretended to be pregnant for sympathy.
Paul Cleasby, prosecuting, said: "The probation team were suspicious but gave her the benefit of the doubt.
"They would ask her about the progress of the pregnancy and the defendant continued to lie.
"Following the due date, the probation asked about the birth and how her child was doing, and she would say it was being looked after by a relative."
The court heard how Philips continued to feed lies to the probation officers by showing her pictures of a child, claiming it to be her baby.
However, the 37-year-old's deceit eventually caught up with her when the officers became so suspicious they decided to challenge her after she told them she had lost the baby.
She then confessed that the entire pregnancy was a lie.
Mitigating, Ben Pegman said: "She said she's generally sorry, embarrassed and ashamed of her actions.
"What started as a lie has spiralled into something really serious."
Sentencing, Judge Armstrong said: "You conned your aunt and then during the course of mitigation you said you were expecting a child only months away so the court took that into account and suspended the sentence.
"This was an lie made out of panic and an attempt to protect your son seeing you being taken away in handcuffs."
Philips' victim Tracy Sedgwick has hit out at the sentence branding it "disgusting".
The 46-year-old said she was "sickened" her niece would be released in months.
She told the Express: "What I really wanted was for her to be ordered by the court to pay the money back. I have been in debt because of Lisa since 2011.
"Me and my partner have managed to pay most of it back, but the whole thing has had an horrific impact on our lives.
"We have been scrimping and scraping to get by."
Ms Sedgwick and her niece had once been incredibly close and Philips had planted doubts in her mind about her partner Ahmet Oktar.
As a result Ms Sedgwick handed around £15,000 to Philips for "safe-keeping", but the 37-year-old frittered it away on designer goods and beauty treatments.
Ms Sedgwick, from Darlington, County Durham, added: "Lisa had got away with it but we have not got justice.
"Lisa and I had both had IVF treatment, and she knew I would never be able to have children.
"When I heard she was pregnant it was like an extra kick in the teeth. She knew how much that would hurt me.
"Lisa's mum is my sister, and this whole thing has torn the family apart."