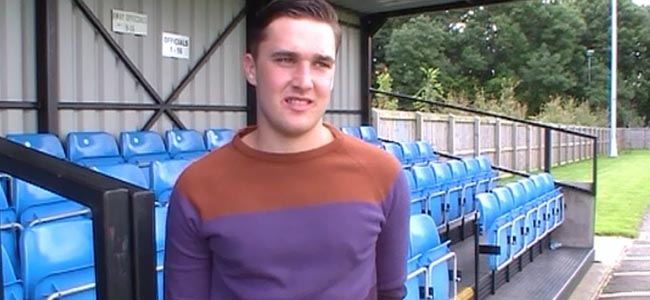 By Glen Robertson
Newton Aycliffe midfielder Nathan Wilson is eagerly anticipating the high-profile clash with his former employers Sunderland on Friday night.
The 20-year-old spent 12 years in the Premier League club's academy and will come face-to-face with the Black Cats for the first time since his departure.
And the former West Auckland man is looking to show the club what they're missing.
"I've got a few points to prove," he told Aycliffe Today.
See his interview in our Video Vault here
"I'm coming up against people my own age, some a bit younger, and will have a point to make if I'm selected to play.
"I had a good time there. I was there since I was about seven and worked my way up, had two years as a scholar and a year in the reserves. I enjoyed it and worked with some good coaches."
One of those coaches was Kevin Ball, the man who will take charge of Sunderland at Moore Lane Park. Wilson has a lot of respect for the Black Cats' legend.
"Bally probably brought me on as a player the most," he said. "It's probably the first time I've ever played against him.
"I'm sure I'll be able to hear him screaming and shouting on the sidelines. It will be weird to be going against him. I've been texting him and having a bit if banter, hopefully I'll be able to beat him as well."
Wilson joined Aycliffe in December, after making 13 appearances for West Auckland, who he signed for after leaving Sunderland. Wilson scored three times in 18 appearances for the Newtonians, and is looking to push on in his first full season.
"Personally, I want to play regularly and start enjoying my football again," he said. "Towards the end of last season I had a couple of not so good games, so I need to get myself back into the swing of things and play like I know I can.
"It was good to get back to playing at the weekend (when Aycliffe beat their under-18 side 4-1). I didn't start the game, and we changed the team around a little bit, but the last 45 I felt fit.
"I've been doing quite a bit of work over the summer, and I feel pretty fit and sharp as well, and it was good to get two goals. Hopefully I can push on for the season now."
● Aycliffe's game against a Sunderland XI tomorrow night kicks off at 7.30pm, with admission £5 adults and £3 concessions. Fans are strongly urged to arrive in plenty of time to avoid lengthy queues.