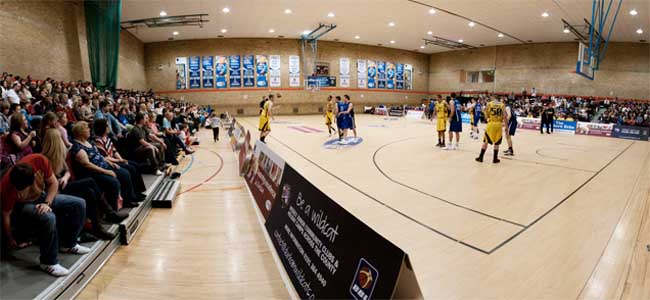 By Ryan Gillham
Durham Wildcats recorded their first ever victory on the road in the BBL with a 82-76 victory over giants Worcester Wolves.
Wildcats new boys Mike Baldarelli and Andrew Keister impressed on their league debuts by putting in outstanding performances.
After a slow start to the game the Wildcats looked comfortable with their new look side in the regular season opener despite a two point deficit come the end of the quarter.
Wolves took an early four-point lead before the Wildcats kick started their way into the game as both sides traded baskets throughout the rest of the quarter as the first ended 21-19.
The second quarter saw the games pace been knocked up a notch with end to end basketball before the Wolves created a six point gap.
They kept the advantage and lead all the way through the second quarter and, despite the Wildcats piling the pressure on, they kept Durham five points behind as the first half finished 40-35 to the Wolves.
The game started to slow down in the third for Worcester as the Wildcats took control taking the game to the hosts. Worcester kept the lead all the way until the final couple of minutes in the third quarter when Durham opened up the Wolves, finishing the quarter strong with a four point lead at 51-56.
Durham started where they left off in the fourth extending their lead to six points and their lead just kept growing and the Wolves couldn't seem to keep up with the tenacity of the Wildcats.
Bucci, Keister and Baldarelli took charge of the game and closed out the fourth which some clever play and some big shots winning by a six point gap at 76-82.
Durham Wildcats head coach Dave Elderkin was really pleased about how his team took the game to the Wolves despite being underdogs going into the game.
"The team were magnificent," he said: "Mike had a great game tonight setting the tone for everybody else but it was a real team performance tonight I couldn't be happier with them but this game means nothing unless we can maintain this standard for the remainder of the season."