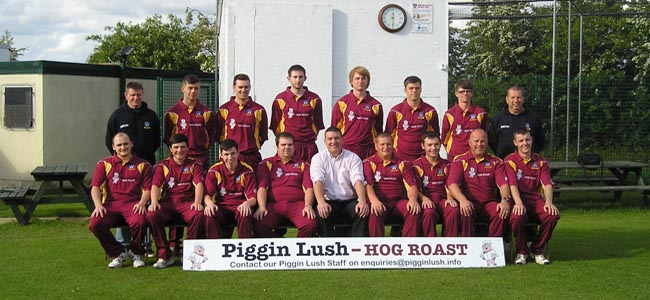 An exciting brand of cricket comes to Newton Aycliffe next week when the town's team starts a Twenty/20-style competition.
Aycliffe have unveiled a brand new coloured kit for the very first time in their history, to compete in the NYSD League's exciting Fifteens Cup Competition.
The strip, sponsored by Piggin Lush Hog Roast, is in the Sports Club's traditional colours of maroon and gold.
And Aycliffe Hogs, as named just for the cup, will begin their campaign at home to Sedgefield at Aycliffe Sports Club next Wednesday night (June 26).
The NYSD League's cup competition is similar to the County Championship Twenty/20 Cup, with coloured clothing, fluorescent balls, free hits and powerplays.
Chairman Ian Palmer said: "We are very excited to be playing in this format of cricket for the first time and are grateful that Steve from Piggin Lush has agreed to sponsor our first coloured kit.
"Although the kit will only be worn in the fifteens competition this season it is likely that it will be worn in all NYSD cup competitions from next season and it was therefore important that we obtained a kit sponsor that shared our vision for the club.
"Piggin Lush, like Newton Aycliffe Cricket Club, is looking to progress and expand and Steve was keen to get involved in a tie up that it is hoped will be mutually beneficial."
The Fifteens competition is played on a group format with the top two from each group qualifying for the quarter finals.
The group matches start next Wednesday (June 26) when Aycliffe Hogs entertain Sedgefield 2nds at Aycliffe Sports Club.
RA Rockets 2nds then visit Moore Lane on Wednesday July 10 before Aycliffe Hogs finish their group games with away ties at Barnard Castle 2nds on 17 July and Northallerton Nitros 2nds on 24 July.
• Entry to all games, which start at 6.30pm, is free and, due to the shorter format, promise to be an exciting fun-filled nights with big hitting and lots of wickets.