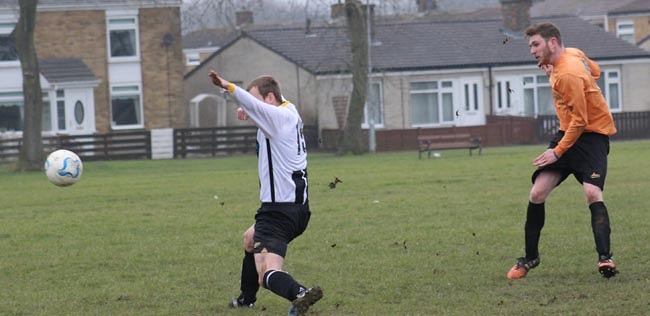 FC Turbinia 6, Crook Wanderers 1
FC Turbinia stormed to the top of the Crook and District League second division with a thumping win at the weekend.
The home side were quick out of the box, forcing a great save from the Crook keeper in the opening couple of minutes.
The Turbinia applied the pressure and opened the scoring after eight minutes when Jordon Steele was found unmarked inside the box and neatly finished.
It wasn't long before the lead was extended when an in swinging cross from Luke Black found Daniel Dixon at the back post surging in front of the defence to score with his head.
Much of the first half was played in and around the visitor's box, with many chances being created it was no surprise to see "The Tub" increase their lead to three before the halftime break, Steele drilled a shot, low and hard towards the far post, only to be finished by Daniel Keane (pictured above) with what can only be described as an exquisite inside flick sending the keeper the wrong way.
The second half was again a similar story to the first FC Turbinia dominated the game and despite a number of changes from the Crook side they could not halt the home team's advances, a second from Daniel Keane came early in the second half closely followed by his third to secure his second hat-trick of the season.
The on looking crowd were treated to a second amazing goal when a cross was cushioned on the chest of Jordon Steele who then struck the dropping ball on the volley with precision into the bottom corner from outside of the box.
FC Turbinia continued to push forward throughout the second half, with chances rattling both posts and the bar, but credit to Crook Wanderers who never gave up and were gifted a goal of their own with 10 minutes to go as they caught the home side out with their own counter attack.
The day was to be Turbinia's though, who in securing all three points, returned to the top of the Crook and District Division 2 Table, due to West Auckland WMC Club playing in the Albert Vickers Cup.
This week FC Turbinia are away to Darlington's Hole in the Wall with a 13.30 kick off at Carmel School.
Next week FC Turbinia are holding a mid-season Fundraiser on Friday 27th February 2015 where Comedy Hypnotist Adam Knight will be performing, Tickets are still available for £6 but be sure to get them quick as they are selling fast and this is one not to miss! For more details please get in touch with Paul Soakell on 07848932989 or [email protected]