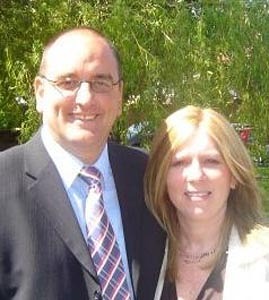 Family, friends and colleagues of Newton Aycliffe Neighbourhood Inspector Mark Hall have paid tribute to him after his sudden death last week.
Mr Hall, 47, who lived in Newton Aycliffe, fell ill when he was out on his bicycle on the evening of Thursday, April 23. He was taken to hospital in Darlington then transferred to Durham, where he sadly passed away on Friday, April 24.
The popular officer leaves behind his wife Tina, children Rebecca, 25, Luke, 24, and Ben, 9; three step-children, Nathan, 24, Chris, 22 and Joshua 20, and three grandchildren.
Mr Hall's family said: "Mark was a beloved son, brother, husband, father and grandfather. To have him taken from us so suddenly is heart-breaking.
"His career as a police officer, his membership of The Church of Jesus Christ of Latter Day Saints, and his work with young people were all extremely important to him, however his first priority and love was his family.
"He loved to watch his youngest son play football and other sports, and in the past couple of years has spent many a weekend playing golf with nine-year-old Ben to help him develop his love and passion for the sport.
"The world has lost not only a highly respected member of the community but most importantly a committed, loving and charitable son, husband, father, grandfather, colleague and friend."
Superintendent Kerrin Smith said: "We are deeply saddened and shocked by the loss of Mark. He was a much-loved friend and colleague of so many people at Durham Constabulary and will be hugely missed.
"Mark began his career as a police officer with Bedfordshire Police in 1990, transferring to Durham in 2001. During his time with Durham he undertook a number of different policing roles, but most recently was the Neighbourhood Inspector for the Newton Aycliffe, Shildon and Sedgefield areas. He was passionate about the role, leading the team by example, and doing all he could to ensure local people felt safe in the communities in which they live.
"All our thoughts are with Mark's family and friends at this difficult time."
An online book of condolence has been opened so that people can leave messages about Mark.
It can be reached via the Durham Constabulary website (www.durham.police.uk).