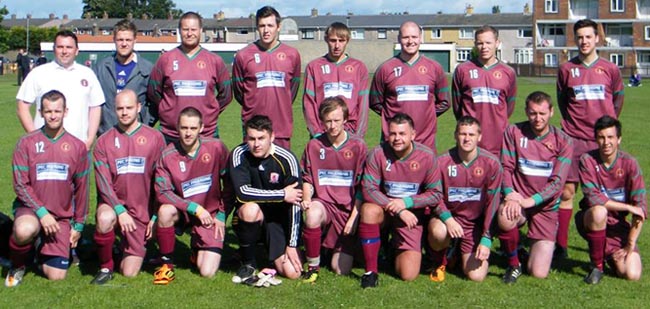 Newton Aycliffe's newest football team have got their season off to a flying start with three back-to-back wins.
Following their opening day win against the British Legion, Newton Aycliffe Sports Club followed it up with a win at the Green Tree Dragon last week, followed by a thumping 8-2 victory at home to the Wheatsheaf at the weekend.
It gives them a 100% start to life in the Darlington Sunday Invitational League second division, with 27 goals coming from their first three outins.
Match reports below, provided by NASC.
Green Tree Dragon 0, NASC 11
Date: Thursday 22.08.13
The second away game of the season saw NASC pitched against the Green Dragon from Darlington.
After a slow start, NASC eventually took the lead after 15 minutes, with Anth Campbell powering through and hitting a sweet left foot drive into the bottom corner.  This was followed by an own goal by The Green Dragon after pressure from a cross from the left hand side.  A third goal came from top scorer Chris Jones which rounded off the first half.
The second half saw NASCFC start brightly with Damien Jose scoring the 4th of the game.  A 5th goal followed by left midfielder Matty Alder and the  Chris Jones got his second on the hour mark to make it 6-0.
Substitute Craig Clark (replacing Damien Jose) then came on and scored his first of the game and then quickly followed it with a second. Chris Jones then completed his hat-trick with 10 minutes remaining and not to be outdone, Clark notched his third before centre-back Carl Little completed the scoring.
Team: Ste Richardson, Jonathan Clegg, Mark Craggs, Carl Little, Adam Gittins, Matty Alder, Paul Cook, Anth Campbell, Jon Hughes, Chris Jones, Damien Jose.  Subs (used): Jaimie Hindle, Craig Clark, Warren Richardson. Goals: Chris Jones(3), Craig Clark (3), Damien Jose, Matty Alder, Carl Little, Anth Campbell and an OG
NASC 8, The Wheatsheaf 2
Date: Sunday 25.08.13
This fixture was NASCFCs first home game of the season and saw the visit of The Wheatsheaf to Moore Lane Park.
Both teams had met pre-season and were evenly matched but this was the first time the two had met competitively both seeking the vital win and 3 points.
NASCFC, on the back of two comfortable back to back away wins, took control of the game early on and it took a long range effort from Connor Hughes to open the scoring on the 15 minute mark.
Top scorer Chris Jones then quickly added two goals on 20 and 21 minutes, with Anthony Campbell rounding off a great 10-minute spell to put the hosts 4-0 up.
The Wheatsheaf hit back with a goal on the half-hour mark to raise their hopes and finished the half strongly getting a penalty right on half time, making it 4-2 and all to play for at the break.
The second half started pretty much as the first had finished with both teams battling for the all important next goal. This eventually came from a free kick which was expertly executed by Tom Postle.
The final flurry of goals followed when Damien Jose made it 6-2 and Chris Jones completed his hat-rick before a good solo goal from Michael Burns made the final score 8-2.
Team: Ste Richardson, Jonathan Clegg, Mark Craggs, Craig Barrigan, Anthony Campbell, Matty Alder, Paul Cook, Connor Hughes, Damien Jose, Chris Jones, Tom Postle.  Subs (used): Tom Henty, Dave Little and Michael Burns. Goals: Chris Jones(3), Damien Jose, Anthony Campbell, Connor Hughes, Michael Burns, Tom Postle.