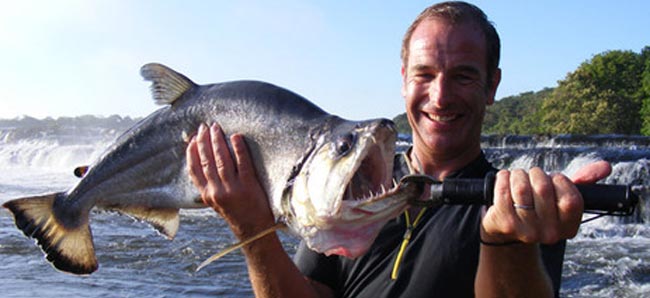 Brodie Millichap previews this week's TV highlights…
Five Picks Of The Week
Robson's Extreme Fishing Challenge: Monday 9pm, Channel 5.
Robson Green heads out to Mozambique to take on local experts in the Bazaruto Archipelago – game fish are the order of the day. He's then on the hunt for king mackerel and trevally in the Indian Ocean.
Lightfields: Wednesday 9pm, ITV1.
In 1944, Eve is adamant that Lucy's death was not a tragic accident and sets out to prove this. Meanwhile, in 1975, Vivien is troubled that she has no recollection of the farm.
Waterloo Road: Thursday 8pm, BBC1.
Scout suffers heartache on exam day when her Mum returns to her thieving ways, leaving her future in doubt. Elsewhere it is Connor and Imogen's big day – but will the happy couple actually get married?
Charlie Brooker's Weekly Wipe: Thursday 10pm, BBC2.
The last episode of the series looks back at the best moments from the show, showcasing the genius that is Charlie Brooker.
Piers Morgan's Life Stories: Friday 9pm, ITV1.
Piers Morgan welcomes the 1984 Winter Olympics ice skating gold medallists Jayne Torvill and Christopher Dean into the studio for a chat about their relationship and how it wasn't always just professional.
Soap Watch
Coronation Street sees Karl take extreme measures as he attempts to win back his ex Stella this week. He turns to abduction, theft and then arson – but his actions only make Jason and Stella even stronger as she asks her new man to move in with her.
Emmerdale sees Brenda receive some devastating news when she is told that she has a brain tumour and only surgery will help with it.
In Eastenders, mum Lola takes drastic action to get her daughter Lexi back when she kidnaps her and goes into hiding. There are no happy endings in Walford though.