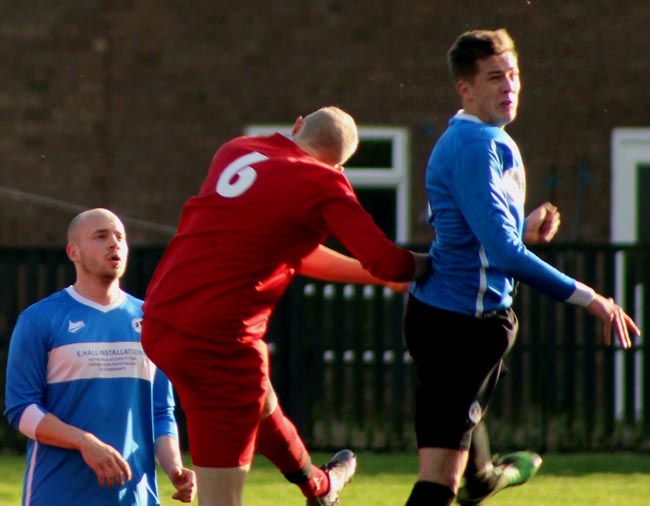 Shildon The Crossings 2, Aycliffe Sports Club 6
By Paul Eales
Another away game and another victory for Newton Aycliffe Sports Club which now sees them starting to close the gap on the teams at the top and pulling away from the teams in the bottom half of the league.
The first game of the season saw the Sports Club surrender a 5-1 lead to draw 5-5 with the Crossings at Moore Lane, and there was no way they were going to allow a repeat performance this time around.
In form striker Connor Hughes was again partnered up front by Chris Jones who opened the scoring on 5 minutes after a beautifully weighted pass from Anth Campbell parted the defence for Jones to fire home. The home side equalised on 25 minutes after a deep cross caught keeper Andy Hartley off guard who fumbled and dropped the ball into his own net.
It took ten minutes for the Aycliffe side to regain the lead, Anth Campbell striking from outside the box with an excellent drilled effort giving the keeper no chance. With The Crossings still licking their wounds, Connor Hughes took advantage of a great through ball from David Teder, who was slotting in at left wing back, to make it 3-1 just moments later.
The game was turning into a true battle and it wasn't long before the first yellow card was awarded, with Craig Barrigan being chopped down with a malicious tackle from behind. With passion high, the home side grabbed a goal back to make it 3-2, David Hall heading into his own net past the stranded Hartley in goal. However, that lasted only seconds as Chris Jones grabbed his brace after some great link up play with Shaun Grant and David Teder to make it 4-2 going into the break.
The next goal was always going to play a big part in the game and it was Connor Hughes who effectively killed the game off grabbing his brace on the hour mark. The home side, which were now at sixes and sevens and arguing amongst themselves couldn't do anything to stop goal machine Hughes grabbing his hatrick with five minutes remaining, lobbing the goalkeeper to make it 6-2and rounding off a fine display.
Next up is a break from the league campaign, with another away tie to BA Laceys in the Invitation Cup. Cup form has been poor this season, but this is a good chance for The Sports Club to try and change that by taking the excellent league form into this tie.
Team: Andy Hartley, Jonathan Clegg, David Teder, David Hall, Mark Craggs, Craig Hannant, Anthony Campbell, Gareth Boyes, Craig Barrigan, Connor Hughes, Chris Jones.
Subs (used): Shaun Grant, Tom Postle, Tommy Young.