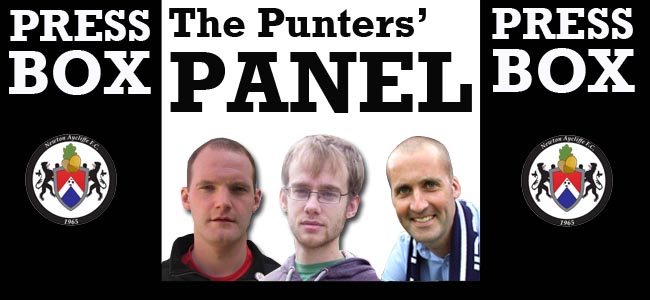 Our panel of three Aycliffe 'experts' give their predictions for this weekend's game…
One point is award for the correct result (win, lose or draw), and three points are awarded for the correct scoreline.
Paul and Dan grabbed a point each, as their faith in the team shone through over Glen's prophecy of doom!
Scores on the Doors:
Glen Robertson – 13
Paul McGeary – 11
Dan Lewis – 9
This week, the trio aim to get more points on the board by overseeing the trip to Hebburn.
Paul McGeary
Winter breaks are nice in one respect; no travelling about in adverse weather, no standing in the cold, but they do leave you itching to get back to action and two weeks of Soccer Saturday has got me bored and raring for some Northern League games. Hebburn away isn't the most glamorous of fixtures, but the travelling fans may well enjoy the panoramic view of the pitch from the upstairs bar. Last time out, we battered them 6-1, when we were both gunning for the top spots in Division Two, two years ago. Earlier in the season we had our bait put up by a very physical and strong side. Liam McBryde got two that night and he has since moved on, so the gap in class should be a lot more even now, and I predict our form dogs to just come out on top in this one.
Hebburn 2-3 Newton Aycliffe
Glen Robertson
Well it was nice of the legaue to give us that winter break, though i can't help feel it could cause problems for the rest of the year. Some teams have a heck of a lot of games to fit in, and we've only got three months to fit it all in. Luckily, Aycliffe are one of the teams who have played the most so we should remain relatively fresh compared to some of our rivals. Fatigue shouldn't be an issue on Saturday, but rustiness could well be. The lads haven't played since January 12th while the skipper's absence stretches back into 2012 due to his suspension. Our opponents Hebburn have started life in Division One brilliantly. You could say they've "done an Aycliffe" following last year's promotion. It will be a tough game, on a pitch that is likely to be heavy following the recent weather, so don't expect a classic. But I feel the lads have enough fight in them to continue the 100 per cent start to 2013.
Hebburn 1-2 Newton Aycliffe
Dan Lewis
Well, its certainly been a frustrating couple of weeks with the weather forcing games to be called off and players inside for training. The lads certainly looked sharp in the gym last week, but its not substitute for the real thing. Although the snow has gone, the pitches are going to be very wet and heavy, and with both teams not having played for a while i think this may be quite a scrappy affair. We have of course won our two games so far in 2013, and I can see us maintaining an unbeaten record for the year, but for me I think a scrappy draw will be the eventual outcome.
Hebburn 1- 1 Aycliffe