The County has invested more than £25,000 in a refurbishment programme which has given its luxury rooms a brand new boutique feel.
All seven rooms at the popular restaurant on Aycliffe Village green, which are rated four star gold by the AA, have been completely revamped during a two-week closure.
The County's rooms, originally brought to the market in 2010, are often used by many companies on Aycliffe Business Park – including Gestamp Tallent, Husqvarna, PWS, Wilsonart, Lucite, 3M and Aldi – for a variety of reasons, from housing temporary employees to putting up VIP guests.
This latest £25,000 investment takes the restaurant's spending to £75,000 in the last 18 months as bosses have seen turnover treble in recent years.
Business manager Colette Farrell said: "It's always important to re-invest in the company and we felt the rooms needed a revamp.
"They're now more modern and in keeping with the restaurant, which is traditional but with a modern twist, and it has given them a whole new look and feel to them.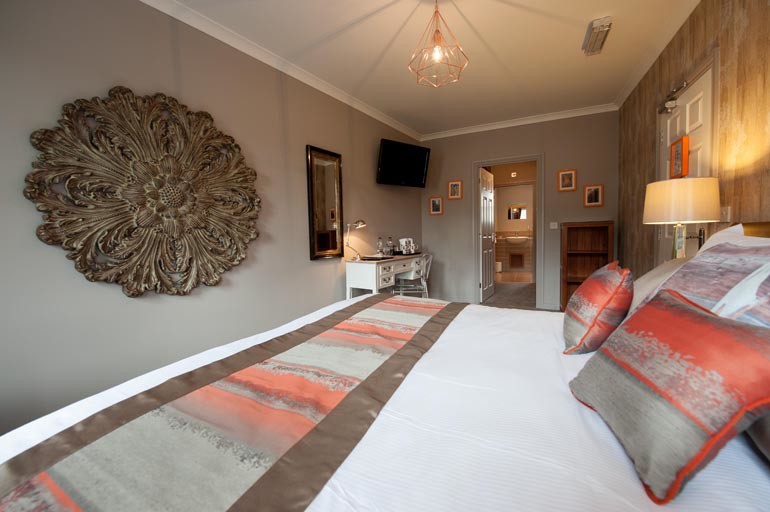 "It makes them very individual, and provides a very different offering. I also think they're more personal and welcoming, and give us a unique product that is different to our more branded competitors."
Colette brought in North Shields-based interior designer Chris Senior to project manage the latest refurbishment programme.
The rooms, which are all en-suite, include three singles on the ground floor, two standard doubles, a superior double and a luxury double.
Colette added: "Five years ago we were just handed a product. It was lovely and our customers loved them, but we felt they needed a change.
"We've had great feedback from our regulars already. There's more of a cosy feel to the them. It has come together really well, we're delighted with the end result.
"It's all about perceived value for me and offering quality. If you have a certain food offering in a certain type of restaurant environment, then everything else should reflect that."
Business owners Colette and Stuart Dale, who are eight years into a 25-year lease at The County, have spent thousands of pounds on improvements since taking over the pub in January 2008, when annual turnover stood at £300,000.
The duo have nearly trebled that during their time at the restaurant, with gross nearly topping £800,000.
The County restaurant, which features in the Taste Durham Awards, and was selected as the best pub for grub in the Northumbria section of the national Good Pub Guide in 2014.
"It's been another good year for us," added Colette, who has a total of 24 members of staff.
"What most people come here for is the friendly, home-from-home type feel to the place. They know the staff, who are consistent, and they know the food offering.
"As well as local businesses using our rooms, a lot of Aycliffe businesses regularly visit the County for business lunches, entertaining VIP guests and staff events on a weekly basis, so it's nice to see the regular friendly faces coming through the door."
• The County is now taking bookings for Christmas parties and lunches, with a festive lunch menu from £15.95 per person and a dinner menu from £27.95pp, which are available from Monday 30th November.
• For Christmas or room bookings, call 01325 312273 or email [email protected]