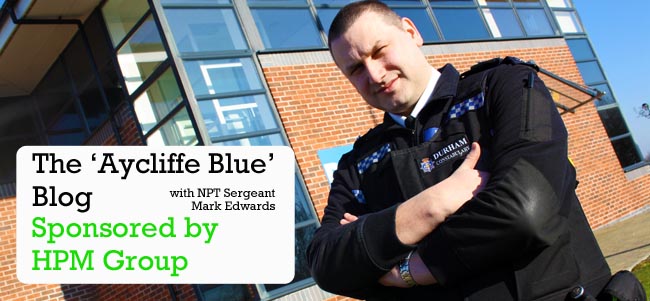 NPT Sergeant Mark Edwards continues his regular blog on Aycliffe Today…
It's that time again for my next blog and I'd like to start this time by commenting on change.
Change is that funny thing that can happen anytime – it's a reality of life.
I'm referring to the change that is again occurring within the team. No sooner have we gotten used to having our latest Officers – Kathryn Pudney and Grace Holohan, around, now we will soon be saying goodbye to them as they join the Response Teams working out of the Darlington Hub.
I can understand the disappointment that this will have upon the community who, like ourselves on the team, have started to form good strong relationships with them.
I would like to reassure everyone that whilst this change was necessary to ensure the continued delivery of Durham Constabulary's Force vision to deliver 24/7 excellent Policing, the needs of the community have not been neglected and the communities within Newton Aycliffe still have a dedicated and focused Neighbourhood Policing Team here.
Alongside old regulars Alan Thompson and Paul Rogers we will soon see the return of Mike Welch in his new role as Police Constable and PC Tracy Henderson is also to rejoin the team returning from a period of absence.
I referred earlier to the Darlington 'Hub' – to simplify, geographically Newton Aycliffe is attached to Darlington and the Response Officers who provide 24/7 cover to the Newton Aycliffe, Sedgefield and Trimdon areas are governed from there.
Therefore, whilst not attached to the NPT, Grace and Kat will still perform their roles from a Response perspective within our area.
I will provide appropriate updates as developments occur. If you wish to continue to keep yourselves appraised of local priorities within the various beat areas of the town then feel free to check out the Durham Constabulary website www.durham.police.uk and search for Aycliffe behind the 'Your Neighbourhood' tab.
And don't forget to attend your local PACT meetings if you have the free time to do so – these are the perfect forums in which to meet representatives from the NPT and discuss those issues that impact upon yourselves in the community. Details of when and where these events are held can also be found on the website.
Short and sweet this time, I'll end with a couple of court results.
Rachael Baines, 30, from Newton Aycliffe, appeared at the town's Magistrates Court on 24th April charged with the theft of a bottle of wine from BoozeBusters and was conditionally discharged for six months.
Demi Elizabeth Foster, 20, from Bishop Auckland, appeared assault at Aycliffe Magistrates Court on 12th April charged with assault. A community order was made and she was ordered to pay £50 compensation to the victim, to pay a £60 victim surcharge, and to pay £40 costs to the Crown prosecution Service.
Until next time,
Be good!
Mark J Edwards
Aycliffe NPT Sergeant