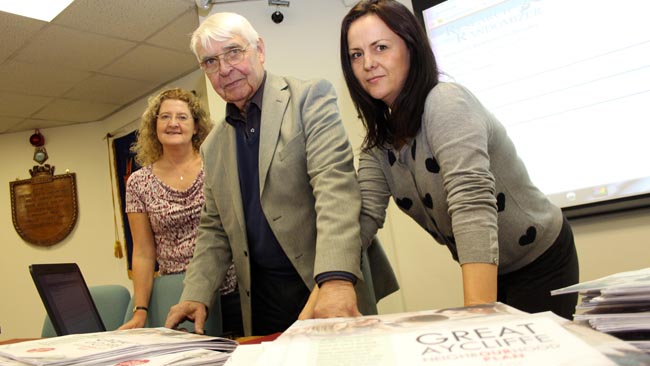 By Martin Walker
Three lucky Newtonians have landed a cash windfall after they were picked out as winners in the Neighbourhood Plan draw.
Great Aycliffe Town Councillor Brian Hall, who is chairman of the Neighbourhood Plan steering group, made the draw by computer this week, along with Chrissy Walton and Angela Corner from the council.
Everyone who filled in the Great Aycliffe Neighbourhood Plan was entered into the draw.
Wendy Church, from the Grange, Woodham, won the £100 prize; Clyde Scott, from Kemble Green South, won the £50 prize; and Ms L Knowles won the £25 prize.
Cllr Hall said it was nice for the winners to have a bit of extra money in their pocket.
But he told Aycliffe Today: "It's the information we want from everyone that is most important.
"I think the response has been fantastic. Of course, we'd always like more, but as it goes it's pretty good for the girls that have worked hard on the committee.
"But there's a lot more work to go into this. We have to extract the information and there'll be more opportunities for people to have a say."
When Durham County Council's county-wide plan apparently received around 1,000 replies, the fact Aycliffe's has already received 800 is encouraging – but it can and should be more.
"This is an ideal opportunity for people to have a say," added Cllr Hall.
"There will be things asked for that we really can't provide, but at least it's a good exercise and lets us know what the people want."
It's not too late for Newtonians to have their say in the Neighbourhood Plan survey.
Simply download the survey form by clicking here, complete it and either:
• Save it to your computer and email it to: [email protected]
Or
• Print it off and send it to: GATC, School Aycliffe Lane, School Aycliffe, Newton Aycliffe, County Durham DL5 6QF.