Woodham Academy held their annual Sports Academy Presentation Evening at Hardwick Hall.
The students were entertained by guest speaker, Amanda Coulson – a British champion boxer and now a GB boxing coach.
Over one third of Woodham Academy students are members of the Sports Academy this year. They take part in a wide variety of sports including dance, swimming, American football, girls' football, goalkeeping, gymnastics, water polo, softball, handball, boxing, table tennis, cricket and basketball.
Woodam Sports Academy offers elite coaching delivered by the school's staff and professional coaches, many of whom were there to celebrate the students' success. All of the students received a certificate of achievement whilst some received awards.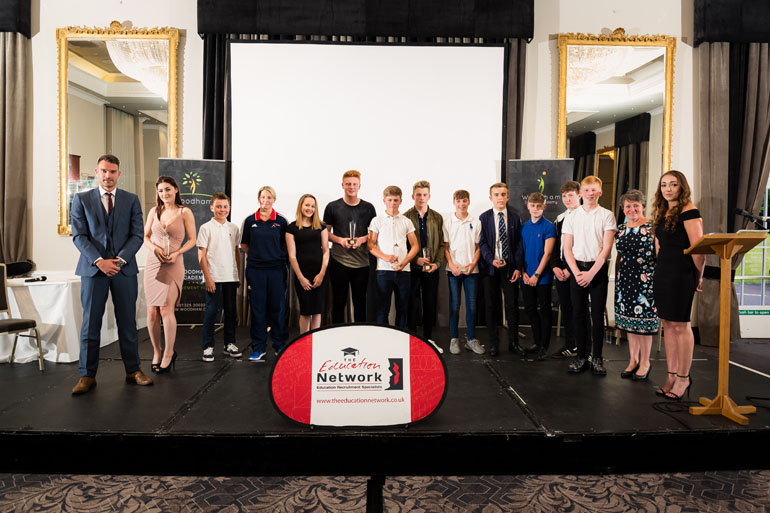 There were nine special awards this year. The first award, the Individual Achievement of the Year Award for year 7 was won by Tyler Dickinson. Tyler is an exceptionally talented student who has been a major part of Football, Basketball and Goalkeeper academies and has been selected to play for Newcastle United's under 13 development squad. As well as this, Tyler also became this year's Keeper Kombat champion.
The second award was the Individual Achievement of the Year Award for year 8 which was won by the exceptionally talented Jak Hardy. Jak is part of basketball and cricket academy and has represented the school at various competitions. In Jak's spare time, he trains extremely hard in Thai boxing. Jak is extremely talented and competes in several events. Jak has recently taken part in the Sandee intercontinental championships where he was fighting in the 13-14 age category even though he had only just turned 13.
The next award was the individual Achievement of the Year Award for year 9. Niall Coulthard, a top-level swimmer won this award. Niall has also represented Woodham Academy at swimming galas held earlier this academic year. Niall is currently pushing to confirm his position at this year's British ASA National Championships. Niall is also part of the N&D, NER and England talent beacon group. He is currently ranked the 8th best swimmer in the country for his age group.
Our next award of the evening was the KS3 Contribution to Sports Award. An award celebrating the ability to adapt to different sports. Not only does it look at continued participation, it also focuses on helping out with teams and events. James Imiela, a very talented year 9 student won this award. James attends football academy, basketball academy and leadership academy. He played for the Year 9 football team that reached the BASFA cup final. He has also competed in basketball, rugby and swimming. Most recently, James turned his hand to athletics. Where he has thrown a massive 32 metres with a javelin and registered for national championships in triple jump. James was also part of the Year 9 rugby team which won a 7's competition without conceding any points.
The Team of the Year Award was won by the Y9 boys rugby team. This team consisted of seven students, selected as they perform exceptionally well in sports. They have all taken part in rugby in PE lessons however were given the opportunity to train together with the help of their coach, Paul Richardson. At the tournament, the team played three games and won them all. Not only were they crowned champions, they managed to play without conceding any points!
One of the Dance Academy students, Joanne Cunliffe, won Individual Achievement of the Year Award for year 10. Joanne is a very positive role model for the younger students and help out with anything she can. Her positive attitude helped her group reach second place in the north-west regional heat of the Great Big Dance off.
Leader of the Year award was given to Lucas Pilling. Lucas is an extremely keen cricketer and plays for Newton Aycliffe Cricket Club. He has also been asked to coach younger players at his local cricket club. Lucas has also been a part of Leadership Academy this year where he has gained different qualifications for a range of activities and has remained committed to the academy. Lucas is a very confident leader that has stepped in to help with primary school activities.
The Individual Achievement of the Year Award for year 11 was won by Ben Stephenson. Ben represents Great Britain in the under 17's, under 18's and under 19's water polo squad. He has played in the EU nations junior men's tournament and has been named the top goal scorer for England.
The final award of the evening was the Mark Bulman Award. This award pays tribute to Mark, a former student of Woodham Academy, and what he did for Woodham Sport. After leaving Woodham, Mark went on to enjoy his first year at university. But unfortunately passed away from a long battle with cancer in October 2010. The winner of this prestigious award was Amelia Cartwright. An exceptional dancer who has had to face some extremely tough challenges this year.
It was very clear that Woodham Academy students are very talented and with the expert coaching and fantastic opportunities, Woodham Academy gives students the chance to progress in a huge range of sports. All of the staff are extremely proud of how far the students have come and how sport has a positive effect on their school work and behaviour. On average, the students are a part of the Sports Academy perform better academically than others. The Presentation Evening was a fantastic night enjoyed by all.