A newly-qualified sports therapist is getting rave reviews from customers after bravely launching his own business.
Alan Kay, from Newton Aycliffe, decided to start AK Sports Therapy and Massage after graduating from his sports rehabilitation degree at the University of Cumbria earlier this year.
The 31-year-old returned to Aycliffe after qualifying this summer and immediately set up his own clinic, based at Aycliffe Leisure Centre in the town centre.
Now he's working his magic for a string of happy customers who have gone to him with back, neck and muscle problems.
Alan decided to go into sports therapy, taking up an adult education course four years ago, when he became unhappy working in local factories.
"When I left school I was still quite immature, I wasn't interested in education, I just wanted to get out there and start working," says Alan.
"I tried college and then tried the apprenticeship route and it just wasn't working, so I ended up in a series of full-time factory jobs until I was about 27.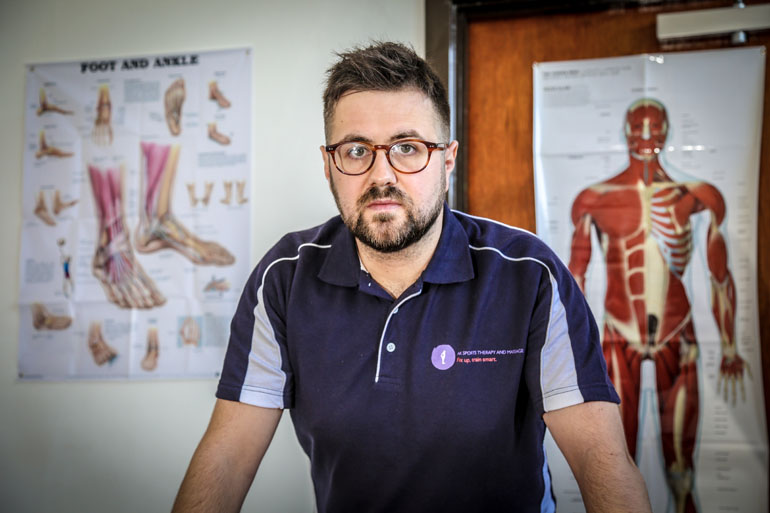 "I wasn't happy and I realised it was time to do something about it, so I looked into adult education courses and I found an access to higher education course at Darlington College, leading to a sports rehabilitation degree at the University of Cumbria.
"I spent three years studying in Carlisle and graduated in May."
Alan returned to the Aycliffe home he shares with his partner, Lauren Woodward, this summer and immediately set about starting his own business.
And as well as his general services, he now he has plans to offer occupational health services to companies on Aycliffe Business Park.
"People come to us with general aches, strains, pulls and niggles," he says.
"So we use a lot of exercise treatment as well as hands-on soft tissue manual work. A lot of people who play sport appreciate that because it gives them more time in the gym and doesn't prohibit their routine.
"But our services aren't just for people who play sport. We're helping people with all sorts of issues and I'm also planning to offer occupational health services with discounted services for employees."
Alan's services are already getting five-star reviews online. Billy Moir wrote on Facebook: "I've been to see Alan after feeling stiff and aching off a busy week of sports and general exercise. I was given a great deep tissue massage which left me feeling refreshed and more mobile.
"Very professional and makes you feel welcome and comfortable – I highly recommend him."
Richelle Burrell wrote: "I had the pleasure of being Alan's first kiwi client! He was awesome, very professional and thorough. Thanks for making my neck feel better. I would highly recommend."
Phill Sangster also left a five-star rating on Facebook, adding: "I have had problems with my back/sciatica for a couple of years now. I've tried anything and everywhere and nothing worked.
"I left it two weeks before leaving a review, to see how much of an impact the session I had has had on my back, and I haven't had any issues since.
"I cannot recommend him highly enough. He has made a huge difference to me."
To contact Alan Kay call 07847 273691 or email [email protected]