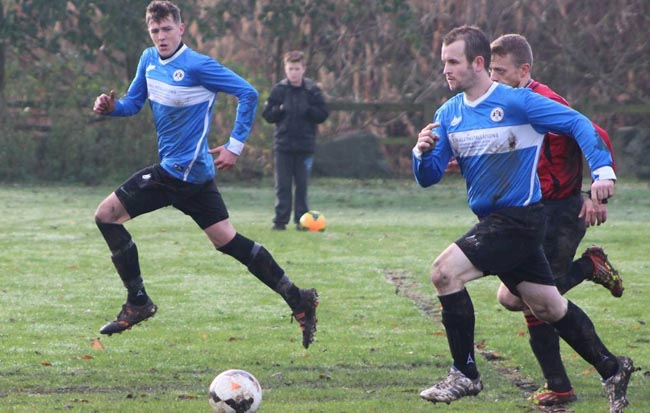 Witton Victoria 2, Aycliffe Sports Club 10
By Paul Eales
Newton Aycliffe Sports Club bounced back from a penalty shoot-out defeat to hammer bottom club Witton Victoria 10-2, their largest margin win in the league so far this season.
An early scare in the first ten minutes, which saw Victoria hit the bar was enough to wake up the travelling Aycliffe side.
Anthony Campbell, starting up front again after last week's man-of-the-match performance, opened the scoring with a pile driver from just outside of the box. Strike partner Connor Hughes then doubled the lead just moments later after missing an easier chance earlier in the game.
A defensive error and lack of communication saw the home side grab a goal back on 22 minutes, but just three minutes later Hughes grabbed his second and Aycliffe's third.
It was on the half-hour mark that Hughes grabbed his hat-trick as the away side started to dominate the half. Another lapse in concentration, though, saw Victoria grab a second goal, but all hopes of any comeback were dashed when David Teder's long-range effort flew past the keeper to make it 5-2 going into the break.
The second half was completely dominated by the Sports Club. Campbell grabbed his second goal, five minutes in and with Hughes in devastating form, grabbing his fourth, the home side's hopes of any comeback were quickly dashed.
The Sports Club's back three of Craig Barrigan, David Hall and Craig Hannant had little to do with the home side not applying any real pressure and tiredness taking them over.
Both wing backs, Carl Robinson (making his debut) and Darren Bossomorth were causing the home side no end of problems and slick passing from the midfield, controlled by Paul Cook, soon helped carve an eighth, which was converted by Hughes.
It was Paul Cook who hit the ninth goal of the game after missing two earlier chances to get on the score sheet and sub Chris Jones finished off the scoring.
NASC FC : Andy Hartley, David Hall, Craig Barrigan, Craig Hannant, Carl Robinson, Darren Bossomworth, David Teder, Paul Cook, Gareth Boyes, Connor Hughes, Anthony Campell.
Subs: Chris Jones, Tom Postle, Tommy Young
This Week: Away Bishop Laceys (League Game)