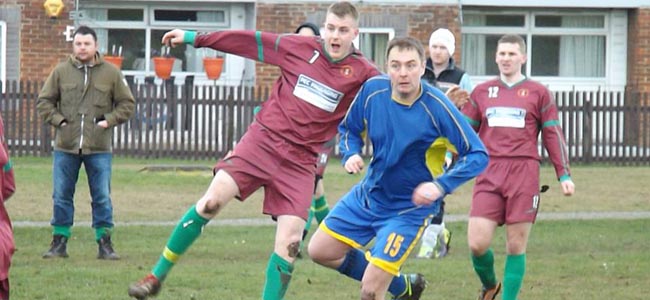 Newton Aycliffe Sports Club 9, British Legion 2
By David Hall
After bringing The Huntsman's 100% winning record to an end last week, another local derby was played at Moore Lane at the weekend, this time against the struggling British Legion.
The Legion started well with The Sports Club struggling to get out to of the traps and when within 10 minutes it was the away side that broke the deadlock.  A long ball was lofted forward to the Legions lone striker who beat centre half Gareth Boyes in the air to flick the ball onto the right winger who slotted the ball home.
Five minutes later the legion went 2 ahead after an initial shot was parried from Chris Palmer and fell to the oncoming centre forward who fired home to make it 2-0 to the Legion.
The Sports Club eventually woke up and started to play the game, not the occasion and on the 20 minute mark they turned on the style with Chris Jones netting his 21st league goal of the season.
Sports club really started to pile the on pressure with some great inter play which won a corner and after a scramble in the goalmouth, the returning Jon Hughes scored to make it 2-2. It was now all Aycliffe Sports Club and seasoned veteran Craig Barrigan chipped in to make it 3-2.   This was quickly followed by David Teder scoring with a sweet left foot shot that was buried in the bottom right hand corner of the goal which he celebrated in great style to make it 4-2. The legion were still trying to hit the home side on the break and were awarded a penalty just before half time, only for Chris Palmer to easily save to his right.
The second half got under way and The Sports Club started how they finished, with some great passing and neat touch's, playing it around the Legion side who were struggling to match the inform side. Anthony Campbell was next on the score sheet when he went on a wonder run starting from the left and weaving through into the legions box before slotting home a wonderful solo goal.
The lively Chris Jones then went on to score another 2 goals for his Hatrick, which now takes him up to 23 goals for the season in the League, 30 in all competitions.
Sports club were now totally dominant and a shot from substitute Glen Hendrix was knocked in from a Legion defender it made it 8-2. The final nail in the coffin for legion side came when Glen Hendrix  scored his first competition goal for the Sports club to finish the game 9-2.
Team:- Chris Palmer, Adam Gittens, Gareth Boyes, Mark Craggs, Darren Bossomworth, Jon Hughes (1), Craig Barrigan (1), Ryan Stonehouse (MoM), Anthony Campbell (1), David Teder (1), Chris Jones (3).
Subs (Used): Paul Cook, Jonathan Clegg, Glen Hendrix (1)